Monitor Website Content And Send Notification To Growl
Growl Site Monitor is a small open source tool that requests page content and verifies if it returns the correct content. If the content is not properly returned or an error occurs, users are instantly notified via Growl. The original intention behind this app is to use this with Prowl (iPhone application), so that you can get notifications on your iPhone.
There are plenty of apps out there that can tell you when the website is down, but very rarely will you come across an app that can tell you if the content has changed on a specific page. This has two benefits; first that in a large publishing company you can find out which page content has been modified so you detect a problem, and second, that if you are following your favourite website, you can see if the new content has been added or not. Originally built for the purpose of checking content, it can also be used to check if the website is down or not.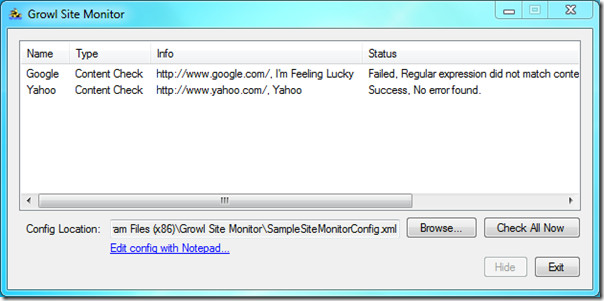 At the moment users can only add the website and the content name, along with the checking interval time via the XML file. Add the URL that you want to check between the <Uri> and </Uri> tags and type the content you want to check between the <RegularExpression> and </RegularExpression> tags. To give the content check a name, type the name in-between the quotation marks <ContentCheck Name="[name goes here]">. It is fairly easy to use once you get a grip on how to modify the XML file.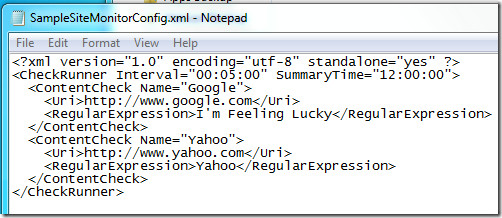 Once the XML file is ready, save it and then launch the application. Click Browse and select the location of the Configuration file and choose it. Now click Check All Now button to begin checking the content on the website. As you can see in the first screenshot, one content check failed while the other succeeded. If you have Prowl installed on your iPhone, you will be instantly notified once regular expression does not match the content in the URL you provided.