Monitor Your Laptop's Battery Performance With BatteryCare
Laptops are widely used now-a-days and so many people don't know how to take good care of its most important element, the battery. BatteryCare is a freeware tool which accurately monitors the battery performance of your system and provides useful information such as total capacity, voltage, CPU temperature, and the manufacturer's information. It is also capable of tracking  the battery's discharge cycle. This tool may also automatically select the power plan you prefer.
This post has been updated to explain how to monitor laptop's battery performance in Windows 8. The article was updated on April 3, 2012.
The main window  will provide very useful statistical information about your laptop's battery with it's eye-candy user interface.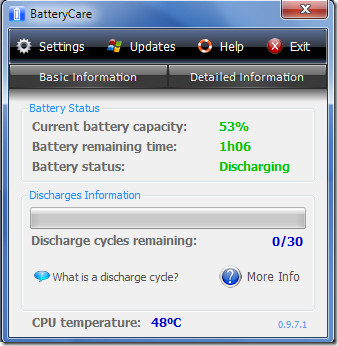 The Basic Information tab lets you view the basic details like Current battery capacity, Battery status, Battery remaining time and discharge cycle information. The Detailed Information tab contains advanced information like designed capacity, total capacity, current capacity, charge/discharge rate etc.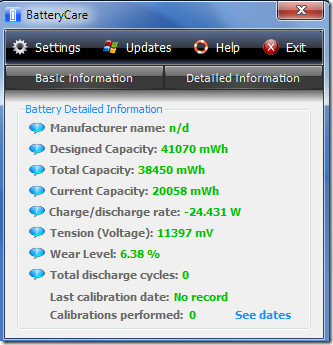 Clicking the system tray icon lets you switch between High Performance, Balanced and Power Saver battery power profiles.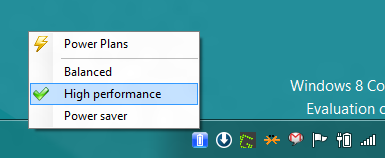 You can grab the latest updates for BatteryCare from the Updates button, the Settings button lets you customize the display information.
It is lightweight tool and consumes minimal resources, almost 1% of processor and memory resources. It works perfectly on Windows XP, Windows Vista, Windows 7 and Windows 8. For Windows users, the Imtec Battery Marker is also a cool tool for monitoring the laptop's battery life and for Linux users, PowerTop does the same job. Enjoy!