Monitor Your Windows System From iOS And Android Devices With PC Monitor
PC Monitor is an easy to use utility that allows you to keep track of your system's performance by providing you in depth insight regarding the system information of your PC from your mobile device. The information that it provides can range from your CPU usage to your Active X Installer and can be used with your PC as well as with iPhone, iPad, iPod Touch and Android devices.
PC Monitor requires an account, which is used to connect your desktop or server system with your mobile devices. Registration is free and hardly takes 2 minutes.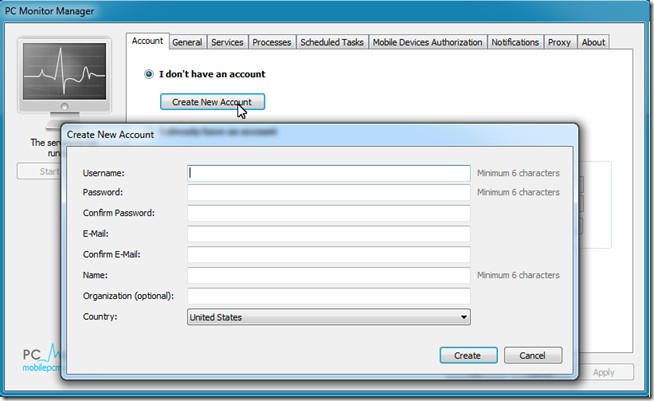 In the Services tab you can select the services running on your system that you would like to acquire information for.
Likewise, you can choose to schedule tasks that you wish to monitor and run. For example, you may choose to schedule "Analyze System" that checks for conditions on your system that may cause high energy usage.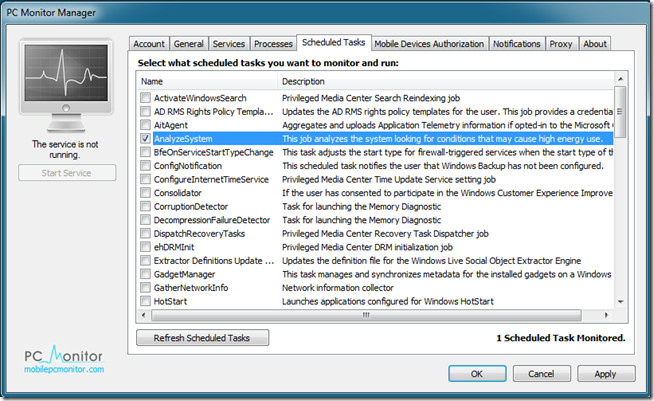 The Mobile Device Authorization tab allows your mobile device to send system commands to your PC which may include shutdown, restart, start/stop services, etc directly from your mobile device. There are two options available in this regard, the first option allows any mobile devices to send commands to you PC, whereas the second option only allows mobile devices that may be paired with your account to be able to perform such functions. I would personally advice the latter as it is quite obviously a more secure mode of controlling your PC and it edges out any chance of a malicious attacks from any frivolous or malicious source.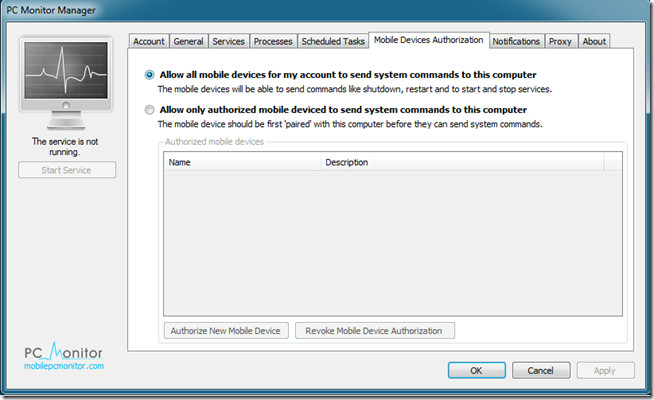 The proxy tab may be particularly useful if you wish to use PC Monitor Manager on a corporate or home based network that uses a proxy server such as ISA(Internet Security and Acceleration Server).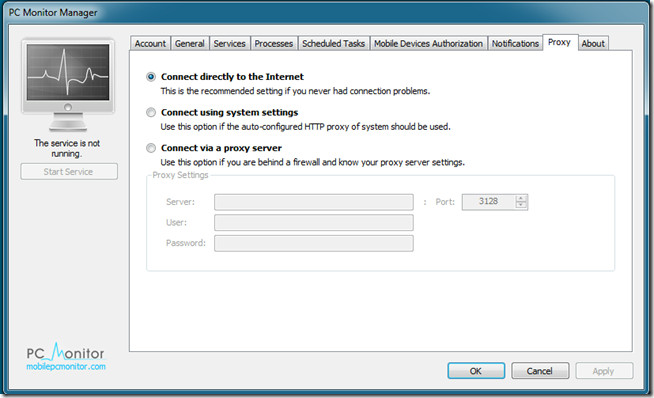 Please do note that after choosing your desired setting and logging in to your PC Monitor account, you will have to click on the Start Service button in order to start the PC Monitor service .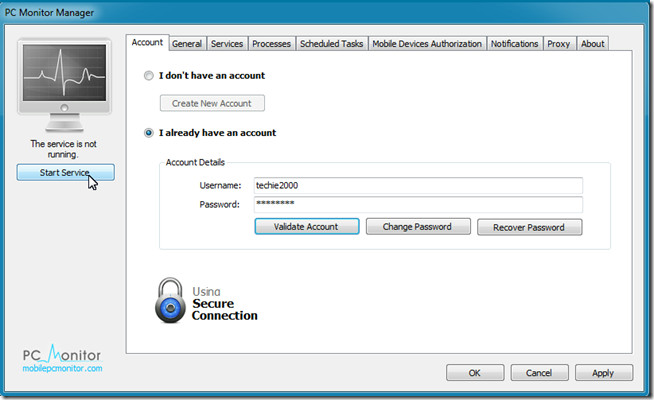 After configuring PC Monitor, you can now start monitoring and managing your PC from your mobile device without having to worry about any system lags.
PC Monitor can be an extremely useful tool not just for the common user but also for System and Network Administrators that may wish to remotely keep track of their servers. This freeware was tested on a Windows 7 64-bit operating system and works with Windows XP / 2003 / Vista / 2008 as well, provided you have .NET Framework 4.0 installed. As for now, it supports iPhone, iPad, iPod Touch, and Android devices.