Moo0 Anti-Recovery Erases All The Recoverable Data
It is recommended to permanently delete all the data before selling out the system, but permanently means that deleting the data without leaving any chance of recovering it back. As there are many staunch recovery tools are available, thus there is always stand a chance of  recovering the data. Moo0 Anti-Recovery is a free tool which ensures that precious data would not be retained in any possible way.
As name suggests, it is solely built to make the disk's content non-recoverable. You'd just need to delete or move all the data from the system and then run all the instances of this application. Nothing difficult here to understand, as every option is clearly defined. To begin with, specify the disk on which you need to run the anti-recovery and select an action by enabling the respective option. You can run the anti-recovery on Recycle Bin, Free Space on disk, Free space on Master File Table of file system, Cluster tips (tips: the end part of files), and File name traces. We'd reckon you to select all the options to ensure that data will not be recoverable.  Once you've made your choice, click Erase Recoverable Data Now to ensure the complete removal and leave disk without any odds of recovering data back.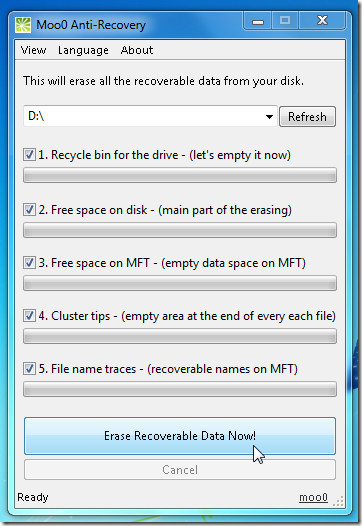 It may take some time which is subjected to the space on the disk. After it has done running all the anti-recovery instances, you can consider yourself on safe side. This application will wholly satisfy the user who need to permanently remove the data without leaving any traces behind. As it seems promising in what its name states, give this application a shot to permanently erase recoverable data.
It runs on all Windows based OS, we tested it on Windows 7 x86 system.