Moo0 DiskCleaner: Cleans Junk And Unwanted Files Quickly
Moo0 DiskCleaner is small portable utility which lets you easily remove all the superfluous content from your system. As it offers mobility you wont need to install the application and check for a any compatibility issues. It supports multitude of file types which includes; system temporary files, private data in registry files, browsers cache, cookies, etc.
The interface is quite appealing and the usage is also easy. On launching the application, it will start detecting redundant content in the system, you can expand the selection to view all the underlying content and enable items which are to be removed. Once you have made a selection, click Clean Now to remove the specified files from the system.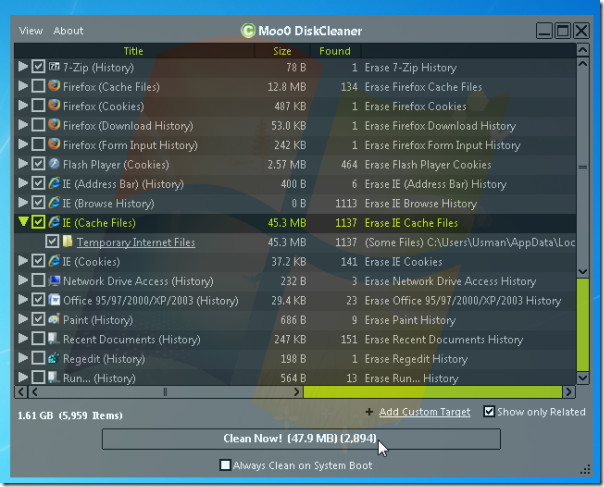 You can always click Add Custom Target link to specify the folder location which you want to scan. You also have an option to start the application on Windows logon, enable Always Clean on System Boot option to let it clean during system boot.
A simple disk cleaner like this one will be of great help in removing all the unwanted content from the system. As usage is not beyond taking two simple steps, give this application a shot to quickly remove superfluous files.
It runs on all Windows based OS, we tested it on Windows 7 x86 system.