Motion Monitor – Turn Webcam Into Motion Detection Security Camera
Do you want to check who sat on your computer while you were away? Or who entered your room while you were away? Motion Monitor is dead simple motion detection app which can take a screenshot via your webcam every time a motion is detected. In short, it converts your webcam into a motion detecting security camera.
It does not have advanced features such as, send image over FTP or email, but is perfect for home computers.
On the main window you will find Live Feed, Current Grabbed image, and the Motion that was detected. Once you are run this app it will detect your default webcam, it is very sensitive in detecting the motion and can even display the slightest motion(if you have a good webcam). I tested it with my HP Dv5t build-in webcam and it performed great.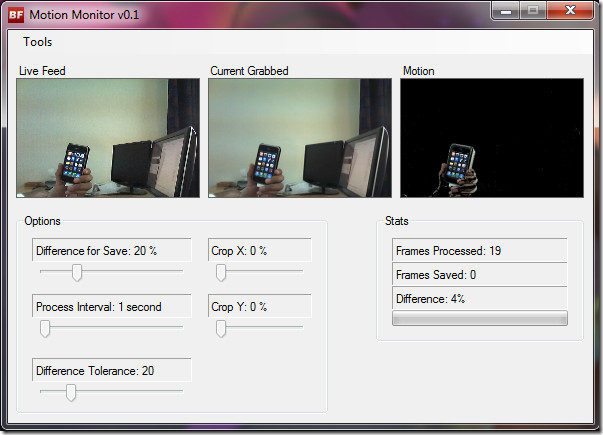 The app does not start recording automatically, you need to hit Tools > Start to begin. Once you are done, hit Tools > Stop, all images will be saved in JPEG format in the Output folder under the installation folder. You can change the options from the main window.
One perfect usage could be to put the webcam in the main TV lounge or Drawing room and then connect it with the main Home server, run this app, and you have your own mini security system installed. You can even put the webcam at your home's back entrance to keep it secure.
The only downside I find is that it doesn't support multiple webcams and the images cannot be transferred over FTP. But I am sure the developer will look into this matter.
It works on Windows XP, Windows Vista, and Windows 7. Enjoy!