Send A Window To A Different Virtual Desktop In Windows 10
Windows 10 introduced virtual desktops. Microsoft is quite far behind in introducing this feature since both OS X and Ubuntu have had it for ages. We don't know just how cooked the feature is; whether it's out in its entirety in the current developer build, or if there is more to come with the final release. That said, the new feature is very welcome and we're hoping lots of third-party apps will be developed to help us get even more out of these desktops. Like virtual desktops on other popular operating systems, you can move apps between these desktops in Windows 10. The process is much more refined in Windows 10 and makes it easier to send manage multiple windows.
To send a window to a different desktop, you need to have more than one desktop added. It isn't necessary for any apps to already be present on that desktop. To add a desktop, press Windows+Tab. and click the add desktop button. On this same screen, you will see open windows for the apps that are currently running.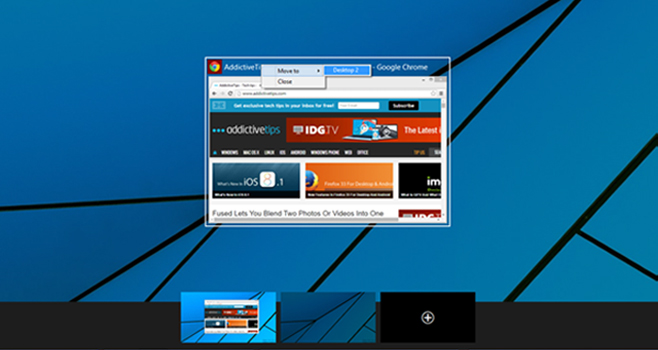 You can drag and drop a window on to a desktop. Alternatively, right-click a window and select the 'Move to' option and from the sub-menu, select which desktop you want to send it to. The desktops are named as Desktop 2, Desktop 3, and so on.  You will stay on the same screen but the window will be moved to the desktop you selected. If you have other windows to manage, you can continue to do so. If you've added a lot of virtual desktops, moving apps to them will be easier to do from this context menu.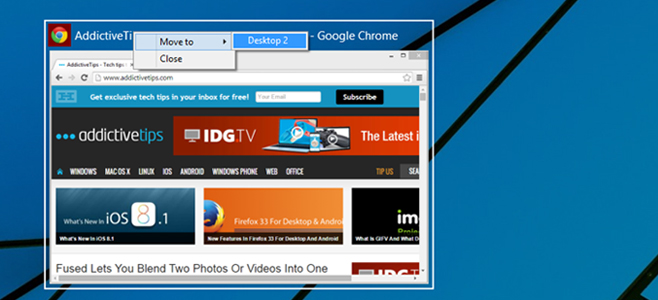 I'm rather surprised this option isn't available directly on the desktop which would make managing app windows even easier. You might open an app on one desktop, but want to send it to a different one. and being able to send it to a different desktop without leaving the current screen would be quicker. OS X lets you simply drag an app to a different desktop, although cycling through to the right one is time consuming. It further highlights why this method is better and that it should work on the desktop.