Move Folders & Files In Bulk [Bulk File Manager Updated]
A few days back, we reviewed Bulk File Manager v0.6 and discussed a host of functions that the application offers. Its author recently updated us with the news of newest version of the application, v1.0. A quick glance into this latest version revealed a couple of new, interesting features that were introduced by the product developer. Discover these new file managing features that can help you further organize your computer's files and folders below.
It still retains its previous interface, with easy-to-access options, categorized under appropriate menus. We saw new features in the product, such as Bulk Mover, Zero Byte File/Empty Dir Management and Error Log. Some new deduplication options, meant for enhancing Deduplication function are also present in the latest product version.
If you want to shift files and folders in bulk, then Bulk Mover is a good choice. As you can see below, the feature employs effective filters that can help you sift through files and folders to move only those files that you want. You can specify file name, file extension, directory name and other filters to define the files you're looking to move. Additionally, you can also choose to remove any empty directories while making the bulk move. Child directories within the selected folder can also be retained.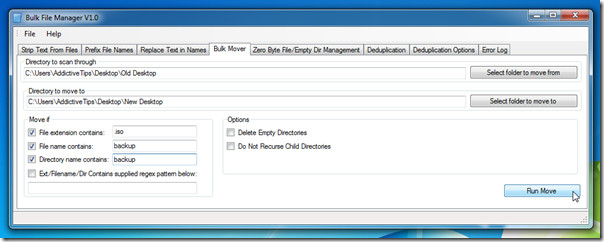 It is common to find zero byte files and empty directories scattered around in a computer system. Though  these directories and folders are of no use, yet it is very difficult to trace them out and remove them from the computer. The application simplifies this task, requiring you to select any folder from which you want to remove empty directories, zero byte files or both.

Error log feature maintains a log of all errors that a user experiences while using the program. A small description of the error is also recorded in this log. We also saw some new deduplication options. Filters were added to let users specify files that are to be fully scanned, directories that are not to be scanned, and file extensions that are not to be scanned. Additionally, the values entered in the appropriate fields can also be separated via delimiter |.
It supports Windows XP, Windows Vista and Windows 7. It was tested on Windows 7 x86 system.