Move, Rename, And Delete System Locked Files / Folders With MoveOnBoot
Dealing with files and folders which are being used by Windows OS is arguably difficult, as many system generated processes and services which use these files / folders lock them up to ensure system stability. There are also instances where one needs to delete some uninstalled application left over data which is, for some inexplicable reasons, being used by Windows, and therefore can't be removed. In all such situations, MoveOnBoot can help you out. It's an application developed specifically to perform different file management operations over system (Windows) locked files and folders.
So, how does it work? It allows you to list down required locked files and folders over which operations can't be performed as long as Windows OS is running because the locked files (or folders) are being used by different system initiated services / processes. Once listed, you can specify the action, such as, move, rename, delete, for any locked file / folder. It will put the action in perform on boot queue. On booting the system, it automatically performs the specified operations over locked files / folders.
You can define Boot Actions which are to be performed over files and folders by either following wizard steps or manually specifying files / folders followed by actions. The wizard method is simple and doesn't require any extra knowledge. To begin, under Boot Actions group, click Boot Actions Wizard.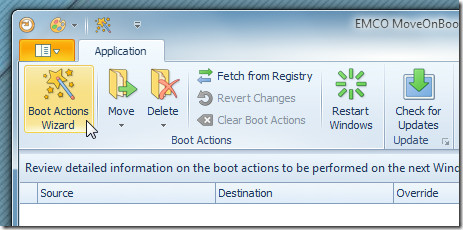 First, you need to choose an action (move, rename, or delete) from the list followed by action target – folder or file. Now according to set action, choose the source and target location. In case, you are moving locked file or folder to other location, enter both source and target location, but if you want to delete or rename locked file / folder, just enter the source path. Once specified, click Finish to en-queue action on main interface.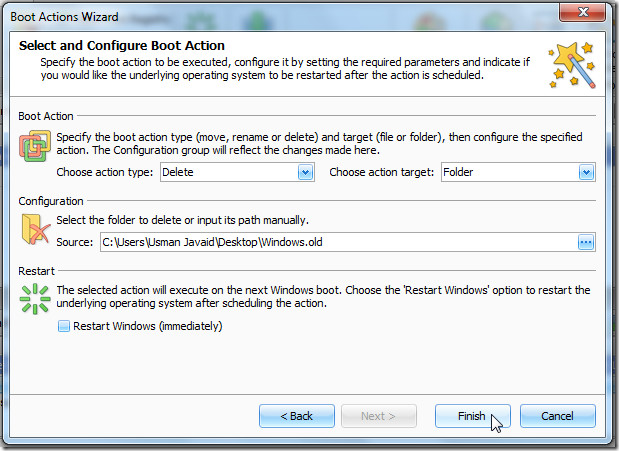 The main window shows all the actions along with log viewer in bottom pane. Here, you can manually specify files and folder from Move and Delete pull-down menus to perform respective boot actions. Once all the actions are listed, simply click Restart Windows to perform them.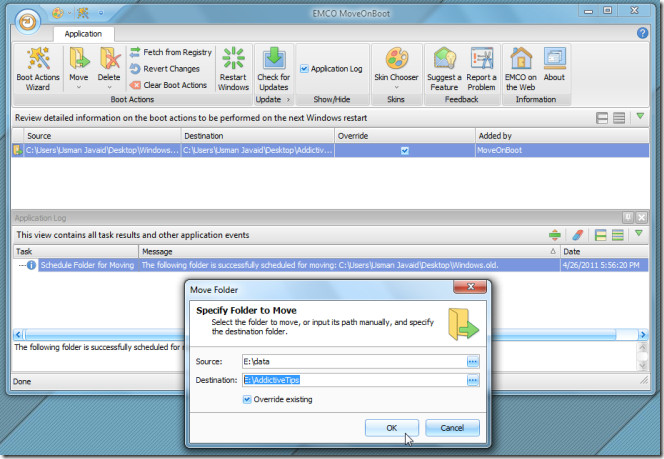 It maintains a log history to check the problems it faced while moving, renaming, or deleting the locked files / folders. If it's unable to perform specified actions over listed files / folders, you'll have to review the log file to manually fix the issues.
MoveOnBoot provides the most suitable way to rename, move, or delete system locked files and folders and should be used when other file / folder cleaning and shredding applications fail to forcibly remove them. It works on Windows XP, Windows Vista, and Windows 7.