MRT Mixer Makes Audio Mixing A Breeze On Windows
If you enjoy listening to your local radio station at work, home or on the road, you might have noticed the constant genre switching on many channels every now and then. At one moment it's playing jazz, and the other it starts sending high bass into your ears, and then suddenly, you begin hearing that boring radio ad while eagerly awaiting the next song. This constant shift of tracks is called audio mixing, which is considered an effective way of making radio more enjoyable to an audience with diverse tastes. Apart from radio, you might also find audio mixing across a multitude of other entertainment mediums. Today, we're going to take a look at MRT Mixer – a desktop app that allows you to easily do your own audio mixing while listening to your favorite tracks. Let's look at the things that make this app awesome.
MRT Mixer sports a fairly easy-to-understand UI for audiophiles. The first thing you see when you launch the app is a dark grey interface with loads of controls and navigation buttons that define its functionality. The application lets you mix audio files for up to 4 channels in all. You can click the 'Load' button under each channel to insert your favorite track. Each channel also carries its own playback controls such as pause, stop and play. In addition, you can individually adjust and control volume, tempo, sample rate and pitch for each channel.
The app also has a built-in equalizer that lets you configure the sound output to your heart's content. Just make sure you have it turned on by toggling the On/Off switch before using it. I was quite surprised, however, to find that MRT Mixer doesn't offer any equalizer presets like jazz. classic, pop, dance, rock etc., out of the box. Having this option could have made things much easier for casual users.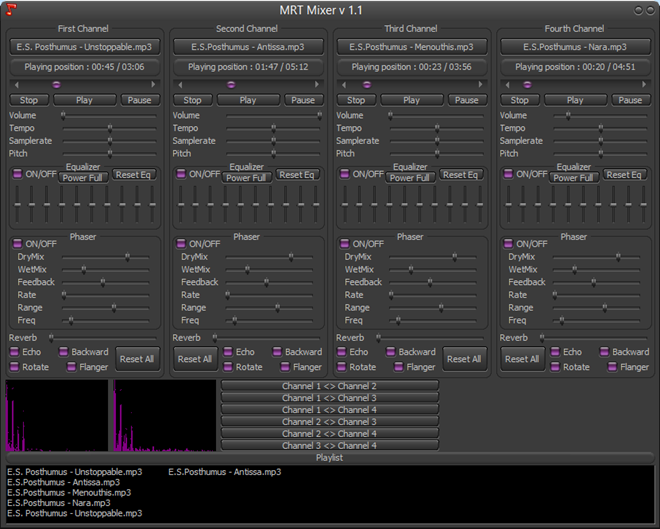 Below the channels and their controls, you will find a Phaser option that, when enabled, lets you adjust additional sound parameters like drymix, wetmix, feedback, rate, range and frequency. Furthermore, you can manually enable audio reverb effects like echo, backward, rotate or flanger. MRT Mixer allows you to instantly switch between any two channels with a click of a button. You can make use of the six channel buttons at the bottom for the purpose. The bottom of the interface comprises of the playlists section where a list of your currently loaded songs shows up.
All in all, it's an excellent app that adds a new dimension to playing and mixing your music. It works on Windows XP, Windows Vista, Windows 7 and Windows 8.