MRU-Blaster: Clear Most Recently Used Lists From Your Windows PC
When you are using the internet, everything you are doing is getting recording. Every page you visit and every word or phrase you key in, is stored in the history lists and can be brought up again if you know how to access the information. The data is stored so that you don't have to look for it again and again every time you need to access it. For instance, if you visit a particular URL, it will be saved in your browser history and you can visit the same page without typing in the complete address. In the same way, whatever you do on your computer is also being stored. For example, if you search for a file in Windows Explorer, or start an application using the Run dialog box, it is saved in Windows history and can be accessed using the drop down menu. Just like Windows Search and Run, a lot of other elements store information of previously performed actions. The problem is that it can clutter your registry, and someone can find out which files you have been working with or looking at. MRU-Blaster is an application for Windows that allows you to clean the most recently used lists stored on your computer.
Other than deleting the most recently used history, MRU-Blaster is also capable of cleaning the temporary internet files and cookies for Internet Explorer. The main interface of the application has Scan and Settings buttons. Each button has a description on its side, informing users in detail of their functionality. Click the Scan button to quickly run the scan.
.
The application will detect all the MRU (most recently used) lists and items, and displays the total number of items detected. You can choose to show the results, or directly clean up the items.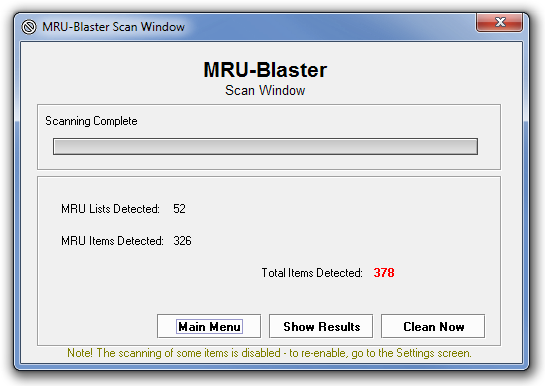 Click Show Results to open the results window containing the complete list of the items found in the most recently used lists. From that list, you can select all items, or individually choose what to delete using the check boxes. The Clean Now button can be employed to wipe all the selected items from your computer at once.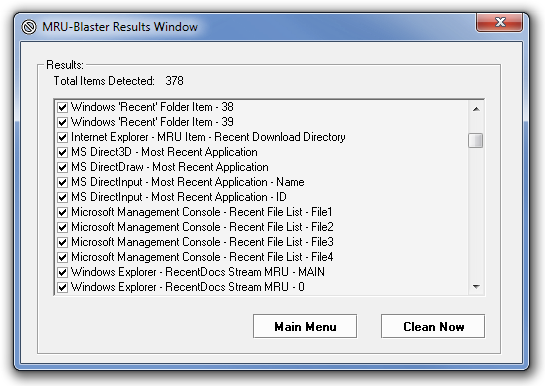 The Program Settings window is accessible by clicking the Settings button available on the main interface. It allows you to select the items that you want to include in the scan.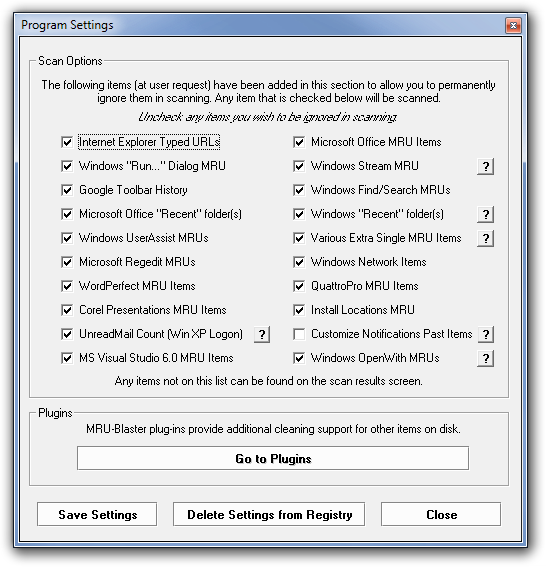 MRU-Blaster works on both 32-bit and 64-bit versions of Windows XP, Windows Vista, Windows 7 and Windows 8.