Multi Clipboard Manager: Record Copied Items Under Different Categories
Whenever you execute an application, the pertaining files and data of the application are loaded to the RAM for quick and seamless access. This in turn also decreases hard drive work load. Since RAM can store data on temporary basis, Windows uses this feature to store clipboard items. Although quite nifty and a big time saver, Windows native clipboard manager doesn't have the ability to hold more than one copied item at a time, and that's the reason why a lot of third party clipboard managers have been developed that extend the functionality of the Windows Clipboard, letting users save as many copied items in the database as they want. In the past, we have covered a lot of clipboard managers such as Ars Clip (reviewed here), Ethervane Echo (reviewed here) and ClipX (reviewed here). They all provide you with different clipboard functionalities, such as customizable hotkey support, organizing clipboard entries into different groups, saving images directly from the clipboard etc. Today, we came across yet another clipboard manager called Multi Clipboard Recorder. It is a portable tool for Windows that allows you to record clipboard entries under different user-specified categories. The application provides you with a tree-list to easily manage and use the clipboard items that belong to a specific category. Each category has collapsible/expandable controls to help you focus on the required type of clipboard entries.
After installation, the program runs in the system tray and records anything that you copy including text, URLs and images. To create a new category, select Add Category from the main interface, and enter a name for it. To start recording clipboard entries in the new category, just select it from the list and start copying. It will automatically save all the clipbpord items in the selected category.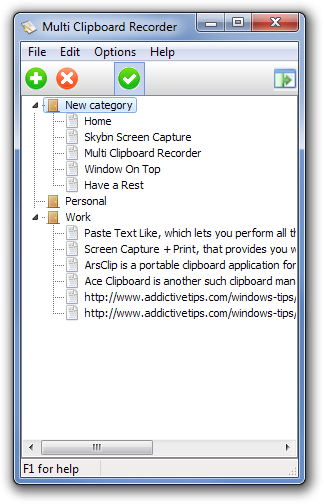 Accessing saved clipboard entries from the application is easy. Just select the required clipboard item from the category, and then use Ctrl+V hotkey combination in target application window to paste the selected clibpoard item.
Multi Clipboard Recorder provides you with two types of views; a Compact View and a Detailed View. By default, the application runs in the Compact View. To switch to detailed you, click the button at the top right corner of the main interface.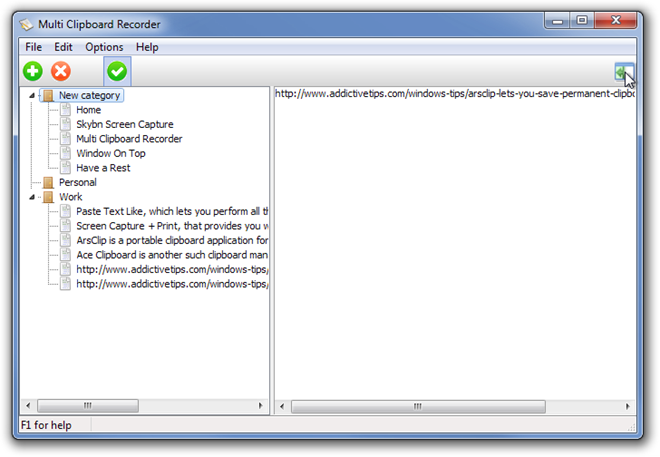 The application works on both 32-bit and 64-bit versions of Windows XP, Windows Vista, Windows 7 and Windows 8. Testing was carried out on Windows 7 Ultimate edition.
Download Multi Clipboard Manager