MultiMonitor: Manage Multiple Extended Screens From Your Desktop
When dealing with several monitors connected to the main system so as to extend the display for better navigation and management, you may find it challenging to keep track and intricately control specifications on each screen. In large scale environments, you might find it hard to keep track of icons, on-screen controllers, widgets and other components on each connected display. MultiMonitor is a simple application that lets you perform some operations and do adjustments related to multi-monitor display. With useful features like Set Primary Monitor, Enable/Disable Monitor, Load/Save Configurations for each monitor, Preview Window and more, you are sure to find yourself in a much better position to use and control your multi-monitor setup.
Just like other Nirsoft applications, it offers a simple executable file ready for loading without any installation. This has the advantage of having minimal impact on your system registry and performance. The main window is organized into two panes, one reserved for listing all active monitors connected to the main system while the other pane enlists screen-specific components of the selected monitor. The Monitor pane provides easy information regarding resolutions, activity status, colors, frequency, adapter, Device ID and Device Key enabling you to fully understand the overall scheme of display extension. Remember, in cases where duplicate screens are being displayed on multiple monitors, this application would loose its relevance. All major functionalities are presented to you in the form of buttons in the toolbar. At any point, you can access the Help menu to understand or address any query.

Selecting a monitor of interest, would instantly display components in the bottom plane with emphasis on window titles, position, size, state, process name and path with the relevant icons for identification purposes.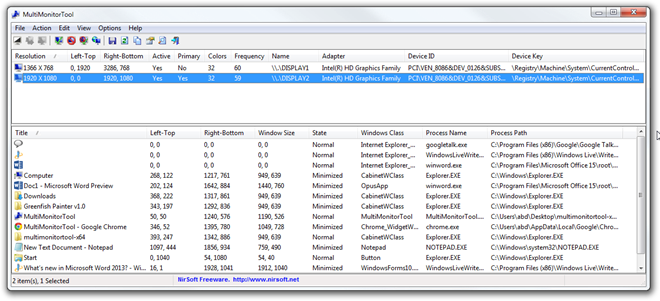 Right Clicking a monitor entry would empower you to Enable/Disable the monitor (Ctrl+F7/F6) as per the requirement. Similarly, you can Enable/Disable Switch (Ctrl+F8) feature coupled with column choice and auto-sizing functionalities. Technical details can be viewed by clicking Properties (Alt+Enter) within this menu. Support for hotkeys improves the user experience in favor of quick and easy access.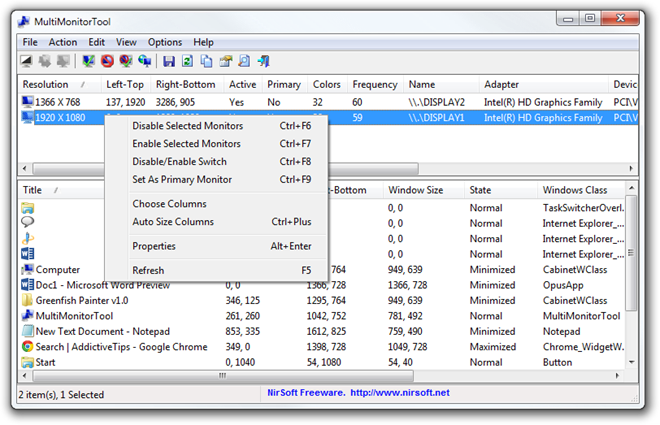 You can save Monitor Properties and Technical details in text document using the Save Selected Item option, accessible from the File menu. This will help you in documentation, analysis and troubleshooting your system over time.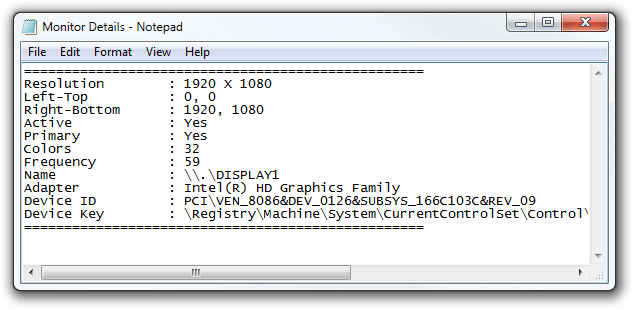 Another distinguishing feature is the Monitor Preview window which allows you to watch the preview of every monitor from the main display for better control and management. These preview windows can be resized according to the required detail.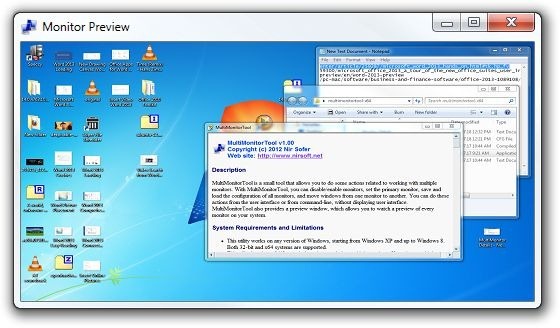 Overall, we found this utility very useful, especially for large multi-monitor setups to simplify display monitors' control and adjustment capabilities. We tested this useful application on Windows 7, 64-bit edition. It also supports Windows XP, Windows Vista, Windows 7 and Windows 8.