SLAG-FS: Music Playing Gadget That Syncs With Windows Media Player
SLAG-FS is a music playing sidebar gadget for Windows Vista and Windows 7. It comes with two viewing modes, one is the normalized compact view and other is a full screen display. It syncs with Windows Media Player playlists, letting you enjoy and navigate through your music collection with a single click. The full screen mode is designed for those who love to listen to music on big display setups or on theater televisions through HDMI or DVI (Digital Visual Interface).
The gadget is well-designed, having all the basic navigation controls. The real advantage is for users who have been managing their music archive in Windows Media Player, it offers quick selection of playlist from gadget settings window, lets you choose cover art transition effect from a long list, and provides full screen settings (can be manually adjusted) with some cover art display options.
You will see a volume control, basic playback navigation controls along with the cover art of the song being played in the gadget.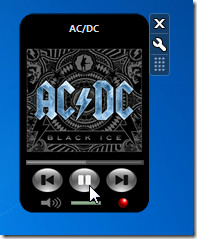 Red button toggles view modes, a click will switch to full screen mode. At the lower end, it lists down all the tracks in the current playlist with their available album art. The playlist control is also provided here. Clicking the green button at the bottom-left corner will bring you back to the compact mode.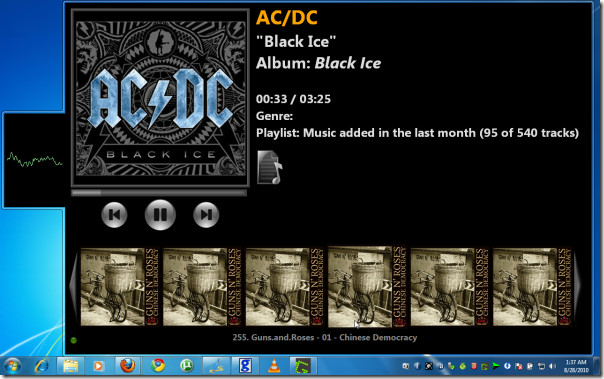 The photo below is from the developer demonstrating the gadget in full screen mode displayed on 720p TV connected via DVI.