Namebench Finds Fastest DNS Server For You
Last year we covered both OpenDNS and Google DNS to speed up your web browsing. There is a third popular DNS service called UltraDNS and many other small DNS providers. In case you are wondering what is DNS and how can it help your browsing speed, refer to the post here.
Extra Note: Also check out the Google DNS Helper, a free tool that can automatically change your DNS to Google DNS without having to tweak anything yourself.
Which DNS server should I use? If you are asking this question yourself, Google has you covered. Namebench is a free opensource tool developed by Google's own staff that checks for the fastest DNS servers in your location.
Should you use UltraDNS, OpenDNS, Google DNS, or the DNS provided by your ISP? This tool makes it easier to find out which DNS performs best in your area.
The usage is simple, by default the three most popular free DNS providers' addresses are listed. You can always add a new DNS address followed by a comma. The default number of tests to perform are 200 which gives a more clear result.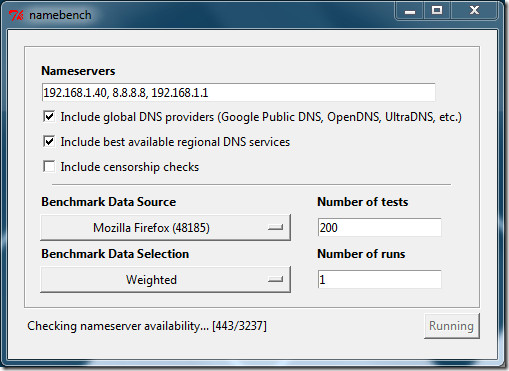 In the end you will be shown the DNS that is the fastest in your region. Please note not to use any internet connection while the tests are being performed for optimal performance.
The IP address for each hostname is given along with other information. Also you will find interesting graphs which better visualize the results.
You will find separate versions for Windows, Linux, and Mac.