Naturpic Offers A Professional-Grade Windows Audio Editor For A Price Tag Of Free
Audio editing has always been an expensive hobby. People who do it on professional scale often have access to high-end equipment and software tools. The advent of powerful PCs has helped change that dramatically, but most professional audio editing packages can cost quite significantly. Though if you don't want to shell out your money, there are a number of free programs available for the purpose as well. If you've got a few audio files in MP3, ACC, WMA or WAV formats that you want to edit while still having access to advanced options for when you require, what you need is a good audio editor sporting a user-friendly interface and basic editing options like copy, paste, cut, trim, fade in and out etc. Naturpic Audio Editor is one such program for Windows that may look very plain on surface but deep down, you will find many editing features otherwise found in professional audio editing packages.
The application acts as a visual editor, sound recorder, audio converter and music player, so in short, you can take Naturpic for a full-fledged editing suite. There is a very little that cannot be achieved with this app when it comes to editing any kind of audio files. Its interface looks fairly similar to what you would normally expect from an audio editor. You can easily mix multiple tracks, or work only on a single one. The multi channel graph lets you easily work with tracks containing multiple audio channels. For instance, you can edit both left and right channels of stereo tracks in conjunction, or do the tinkering separately from one another.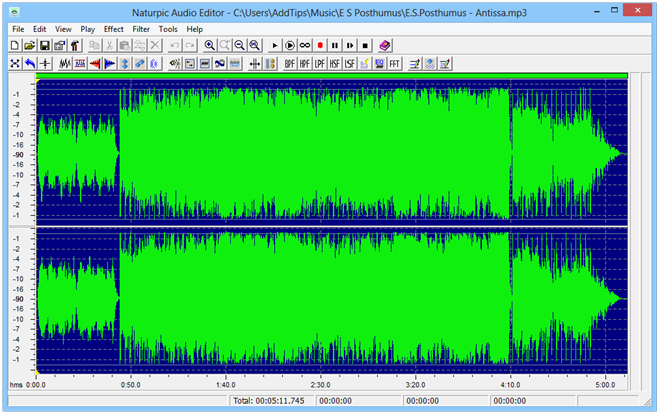 The toolbar at the top of the application is where you basically control everything that the app offers. You will find buttons for audio playback like play, pause, stop, as well as a record button for inline or external recording via your mic or other selected audio input source. Coming over to the editing side, the application lets you easily trim sections of audio, copy and merge segments, add fade effects, change compression, mix stereo channels, change sound pitch, and much more. From basic editing and creating audio loops to professional scale audio production, the application has you covered.
Another impressive feature of this application is the number of input and output formats it supports. You can easily import and export audio files to MP3, WAV, WMA, OGG, VOX, RAW, MP2 and even a few less popular formats.

The Effect and Filters menus are also worth a mention. The Effect menu contains many different options for remixing and slicing your audio the way you want. For instance, the Cassette Noise Reduction is a handy feature to reduce or in some cases eliminate the recording hiss and noise from music imported from old audio cassettes. Similarly, you'll also find some advanced features like Delay, Phaser, Revert, Flanger, Chorus etc. in there.  The Filters menu, on the other hand, carries parameters to control several aspects of the audio such as high pass, low pass, high shelf, notch etc.
Naturpic Audio Editor supports Windows XP, Windows Vista, Windows 7 and Windows 8. You can download it for free via the link provided below.
Download Naturpic Audio Editor