Nested Is A Specialized Editor For Creating Structured Documents
Most of the free document editors available focus more on the number of features and tools it has, and less on the actual writing. No one cares about how the application looks and how many bells and whistles it contain, but the core purpose is to provide as much productivity as plausible. And the said productivity is only possible if the user doesn't easily get distracted with cluttered environment of the tool. If you're like me who always wants something unique and minimalistic in design, then give Nested a shot. It is an open source text editor that lets you create and edit structured documents such as reports, publications, books, presentations etc. The application is designed for the purpose of keeping the user's concentration on content writing instead of format or markup. This gives users more time to think about the content than how would it be presented. The application has a rich WYSIWYM (What-You-See-Is-What-You-Mean) interface, enabling users to focus on structuring and writing the document instead of its appearance. The application hosts several examples for helping new users, formatting buttons, image gallery, assisted links, and easy options to publish document in HTML, LaTeX or PDF. Read on to find out more about Nested.
As with anything, we always see its appearance, the application doesn't disappoint. It includes pre-processing and post-processing options for advanced users, including advanced theming, LaTeX formula support, keyboard shortcuts etc. Nested separates the written text from publishing options, allowing the user to present it in HTML web page, IEEE publication, PDF book etc. Nested files can be viewed and edited with any text editor, since they are saved as plain text.
The application has Title pane to the left, and space for writing/editing content at the right side. Toolbars with different options such as New, open Save, Properties, Publish, Insert Code, Ordered Lists. Cut, Copy etc, are available at the top and bottom of the interface.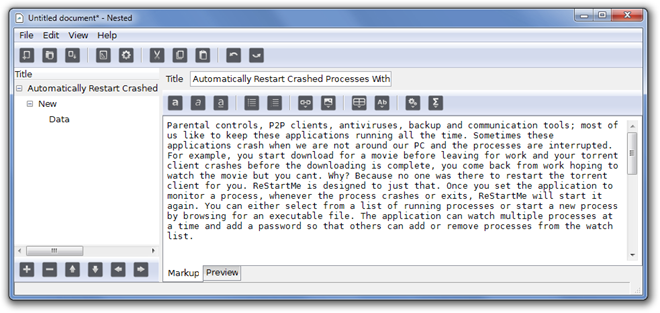 Select Properties from File menu to configure Document Properties including Title, Author, Version, Publishing Options, Presentation, Packaging and Security.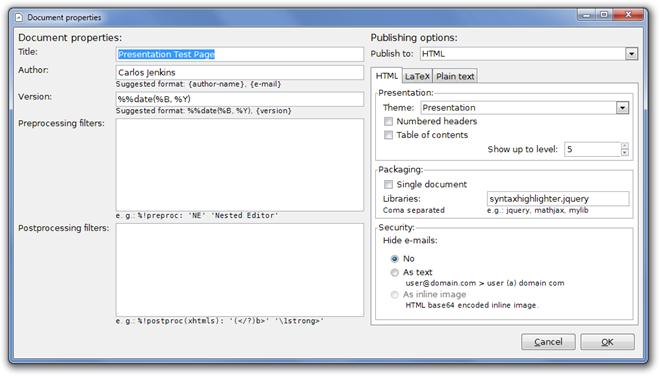 Select File menu at the top to view detailed Templates and Examples of writing different types of documents to take full advantage of the application. Overall, Nexted is a fascinating app, it perfectly does what its supposed to, and its quite feature rich. The application works on Windows XP, Windows Vista and Windows 7. We tested it on Windows 7 Ultimate 64-bit.