New Features & Changes In The Windows 8.1 Lock Screen
Even those who didn't quite fancy Windows 8 when it came out did like its elegant lock screen. The lock screen presents a static background of your choosing, the date and time and notifications for certain apps. It basically replaces the simple logon screen found in previous iterations of Windows such as Windows 7 or Vista. As you may know that Microsoft released a public Preview build of Windows 8.1. Along with many other areas of the operating system, the lock screen has also been spruced up with new options like slideshow, additional app notifications and quick access to the camera. After the break, we'll be discussing all these features in detail.
The new lock screen options can be accessed and configured from the much improved PC Settings app. In Windows 8, all lock screen-related options were available in the Personalize section. In Windows 8.1, Microsoft has moved them under PC & Devices. Once you're there, you will find that there isn't much of a change in terms of design and basic options. You can select a lock screen background of your choice as you could before.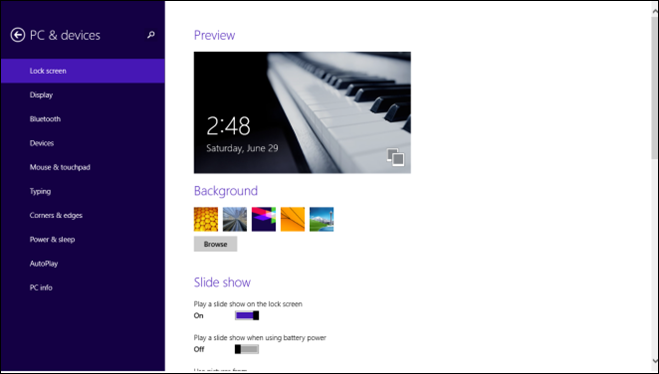 Slide Show
What's not to be missed here, though, is the new Slide Show option that, when activated, allows Windows to shuffle through a folder of background images on the lock screen. Not something to get too excited about, as the slide show effects aren't all that impressive. You can select the image folders from where to play slide show. Apart from local directories, you can specify your SkyDrive folder(s) as well. Once a folder is added, simply tap it again and hit Remove to delete it from the list.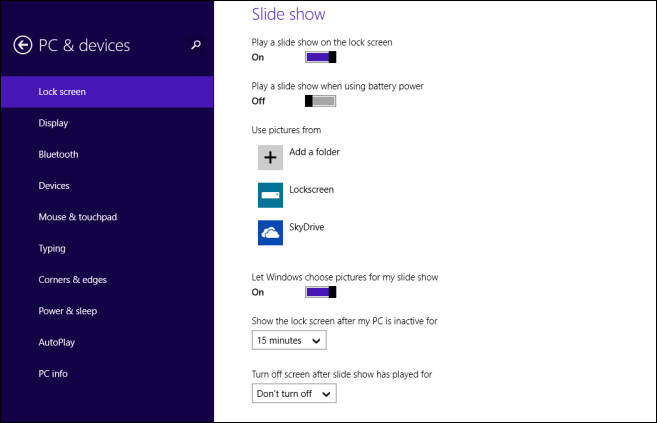 Additionally, you can toggle the 'Let Windows choose picture for my slide show' option, as well some as specify the time after which the screen should automatically turn off while the slide show is playing.
You can also choose to have the lock screen play a slide show only when your Windows 8 or RT laptop or tablet is charging, so as to save power.
Lock Screen Apps
While the lock screen apps options was also available in Windows 8, there are now a few additional apps to choose from. There is now an Alarms app that you can add to display alarm notifications on your lock screen. As with weather apps before, it allows you to choose whether to use native or third-party alarm apps from Windows Store.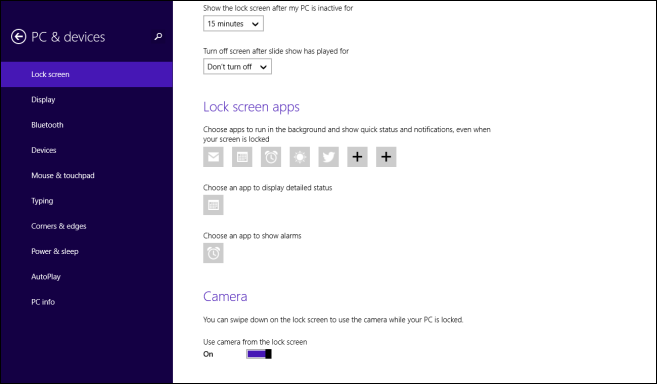 Camera Access
If you've always found it cumbersome to unlock your Windows 8 or RT tablet just to access the camera for a quick shot, Windows 8.1 now has a solution at your disposal. Akin to the iOS & Android, you can access the camera app directly from the Windows 8.1 lock screen by dragging it down instead of upwards. This feature can be easily turned ON and OFF from within PC Settings.
Once you're within the camera, you can choose to unlock the device by hitting the button in the bottom-left corner.
WiFi Control From The Logon Screen
Now, you could view the WiFi status from the lock screen, but you couldn't toggle WiFi or change the AP you were connected to. Windows 8.1 adds the option to do so right beside the Ease of Access button in the bottom-left corner of the Logon screen that appears right after you swipe the lock screen upwards. A small addition, but a handy one.
With Windows 8.1, Microsoft has tried to refine every aspect of the OS and it didn't leave behind its relatively less-discussed lock screen either. The changes it has made to this area may not be very significant, but they seem to setting a definite direction for the lock screen. The camera shortcut in particular, along with the announced capability to accept Skype calls directly from the lock screen will bring its practicality on par with the lock screens of popular mobile platforms.