New Features In Firefox 36 For Desktop And Android
Firefox 36 is out and this version is easily one of the least exciting versions ever released if you're an end user. It's got bug fixes and the usual security improvements but little else. The one major security improvement is that the HTTP/2 protocol is now fully supported. It has been implemented for both the desktop and Android versions of Firefox. The mobile version has also gotten a new tablet interface. The desktop version will now sync tiles for frequently visited web sites that appear on the new tab page across devices. For mobile users running Android Lollipop, Maithili language is now supported, and for desktop users support for the Uzbek language has been added.
Firefox 36 Desktop
For end users the tiles for top sites syncing across devices  is the only noteworthy change here. Before, even with Firefox sync set up, the new tab would populate with over time with the frequently visited sites instead of just using your browsing history or data from Firefox running on a different machine. Those days are now gone and when you sync Firefox, they'll sync on their own.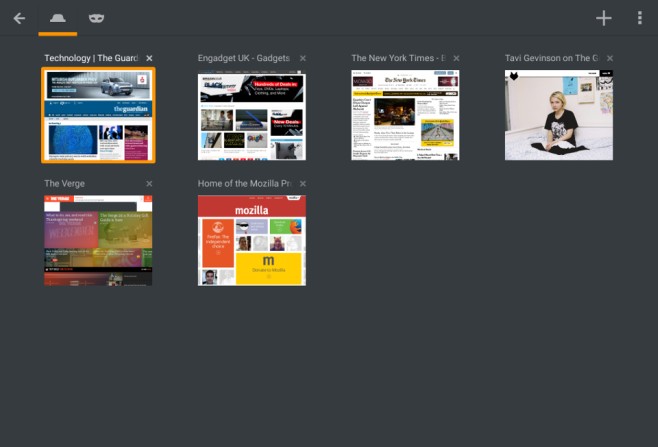 Firefox Android
The only major feature here is for tablet users and that's the new interface. It's easier to navigate for the screen sizes that you commonly see in tablets. You'll be able to get a better overview of open tabs and this interface lays the groundwork for more features to come (image courtesy Mozilla).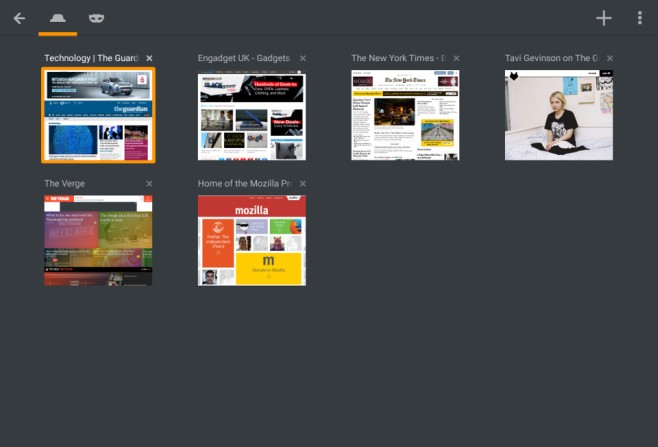 For a detailed look at the changes in Firefox for Desktop and Firefox for Android, read the release notes.
Download Firefox 36 For Desktop
Download Firefox From The Google Play Store