New Features In VLC 1.1.0 RC
The VideoLAN dev-team recently brought forth next iteration of their most eminent product: VLC Player. In this version 1.1.0 RC release, the team added numerous features and functionalities along with slight change in default interface Layout.
These are some basic interface, codecs and code-based improvements which primarily includes;
GPU & DSP encoding.
New HD codecs, MKV, MP4 and AVI improvements, etc.
Revamped Interface.
Support of WebM format (VP8).
In this post we will try to cover most apparent features dev-team added in RC release.
Improved Playlist Control
To begin with, remember the VLC playlist control, it's window opens up separately, which is quite distracting as you need to manually switch to main control and playlist window back & forth. It is now re-designed with new Dock View improvement, meaning now it opens the playlist in the very same main VLC IDE. Apart from slight interface change, the dev-team focused on improvise the playlist controls as well, by introducing nice & simple main navigation bar at right side, allowing you to instantly switch between local drives to remote locations. There is an addition of two playlist buttons as well in the default interface; Loop one-to-loop all toggle button and other for Randomize the collection.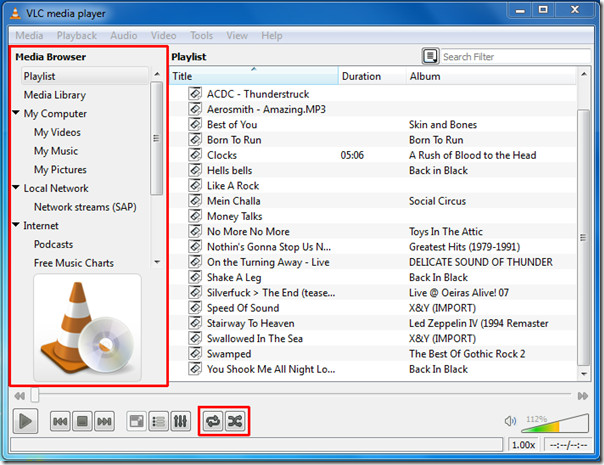 New IMDB Extension
A very important & handy addition in VLC as an extension for all the movies freaks out there. The IMDB (Internet Movie Database) lets you view each & every detail about the movie, drama, sitcom, etc. From View menu, open IMDB extension. Enter the movie name to view all the relevant IMDB searches. select one and go for the details. It provides detailed list of artists, movie summary, basic plot, etc.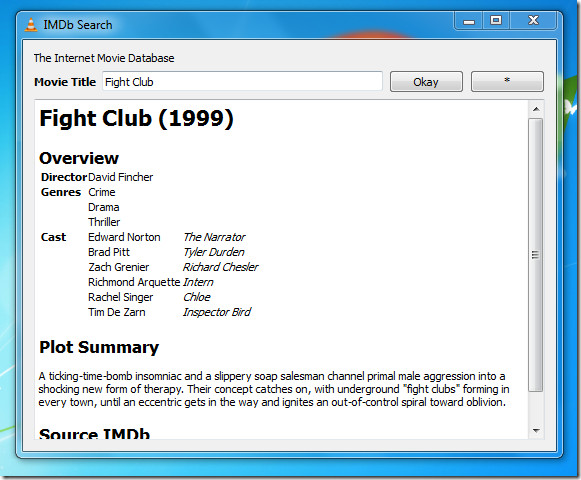 Added Decoder:VP8
An eminent Open Video compression format by Google: WebM (based on Matroska), support is now augmented into VLC. The famous Video Compression codec VP8  format originally built by On2 developers, which was recently purchased by Google and announced it as open-source, is now make its place in VLC supported codecs list. Unlike, other decoders it supports, VP8 stands bit aside, primarily due to the reason that it offers comparable quality to H.264 and provides an open option for HTML5.
Apart from these major changes, the dev-team also switch their primary focus on LuaInterface, which promises more stability and compatibility. The built-in interfaces are now designed using LuaInterface. A new content LuaFramework extension is also added along. The .milk visualization files support is included, which will take visualizations to the next level. We are keeping tab on new features VideoLAN team intending to bring forward in near future. Keep posted for further updates.
You might also be interested in other general VLC Player's detailed feature list.