Follow Major News Feeds With The Elegant 'News Bento' For Windows 8
One of the best things I like about Windows 8 is how the latest apps look and feel. Even though there's been a lot of fuss regarding the all new hybrid OS and replacing Desktop with Start Screen, the winsome design of the Modern UI apps simply looks amazing. One of the latest addition we found on Windows Store's ever growing population of apps, is News Bento. This beautiful app is for those who feel the urge to keep in touch with most of the latest happenings around the globe, so they don't appear dull or boring during their next visit to a pub, or during water cooler sessions. News Bento allows you to personalize the news feeds from a selectable number of channels pertaining to News, Business, Technology, Entertainment, Sports and Photo & Design.
The application is available at Windows Store – the exclusive Windows 8 apps marketplace. To download it, simply head to the Windows Store and type "News Bento" to search for the app. After the search results are displayed, you can access the app's main page in Windows Store. Simply click or tap the Install button (based on whatever device you're using it on).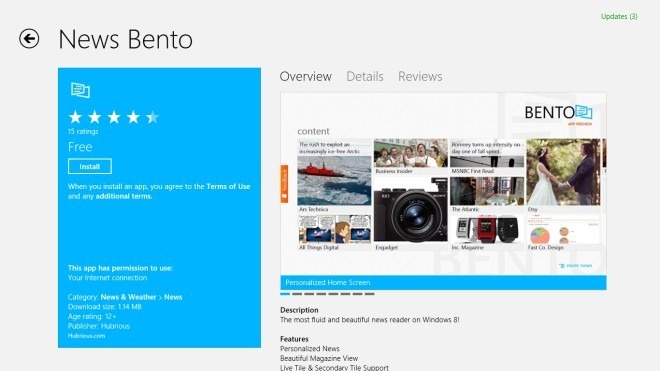 The application has a plain and simply design with Live Tile support. You can use the mouse wheel or swipe gestures to move left and right. The application, by default, contains some of the predefined news blogs and websites, such as TV Guide, Flickr Blog, Photo Jojo, The Atlantic, MSNBC, Engadget etc. However, you may add further feed streams via clicking more news at the bottom right corner of the screen.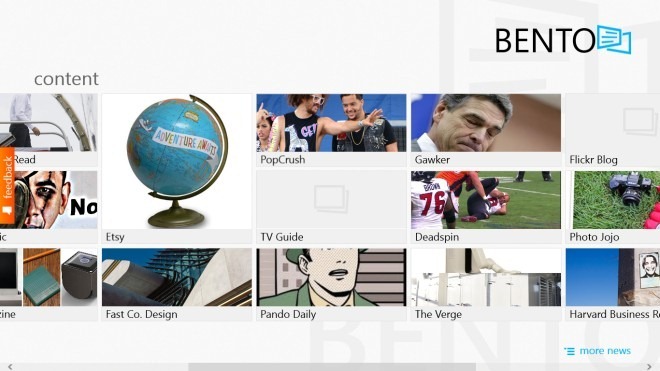 Adding more content is quite easy. All you have to do is mark the feeds you like, and they will appear in the main screen. It includes most of the popular websites; however, the application doesn't allow you to add any custom channel.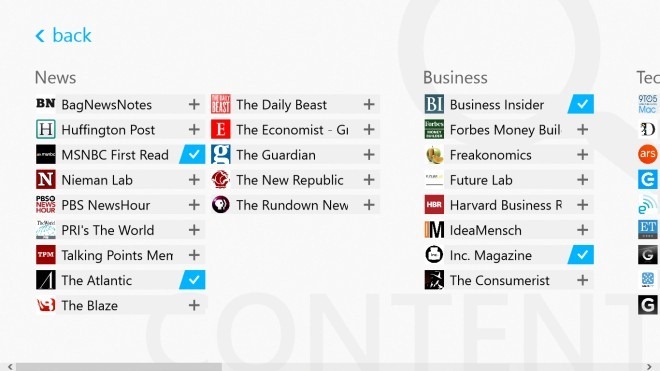 Clicking a tile on the main screen activate its related page, from where you can take a peek at all the latest headlines. It also shows the time during which it last refreshed, and you may use the mouse wheel or the time slider at the bottom to scroll between previous posts.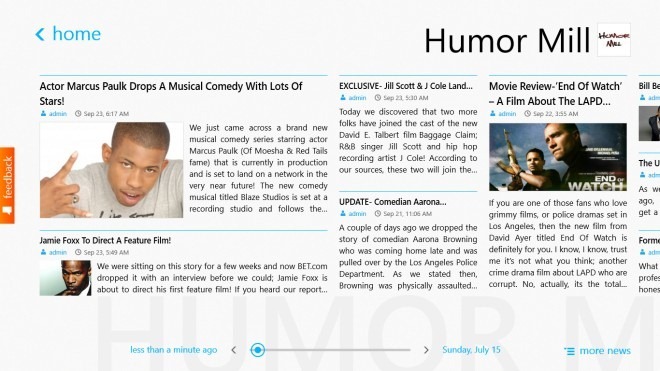 Clicking any headline or excerpt allows you to read the full story, some of which comprise multiple pages.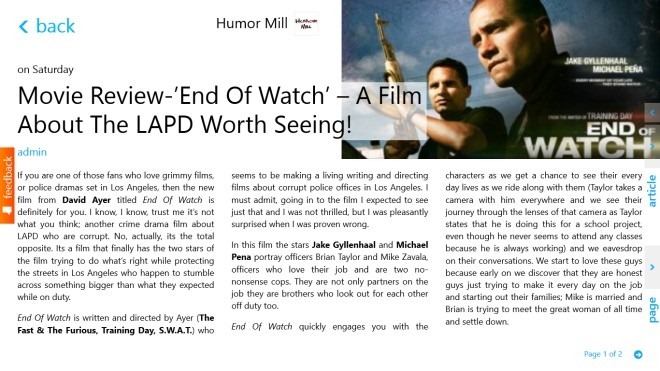 Another noteworthy feature of the application is that it enables you to visit the full original page of the content without leaving the app. The integrated web browser works like a charm to perform the said task.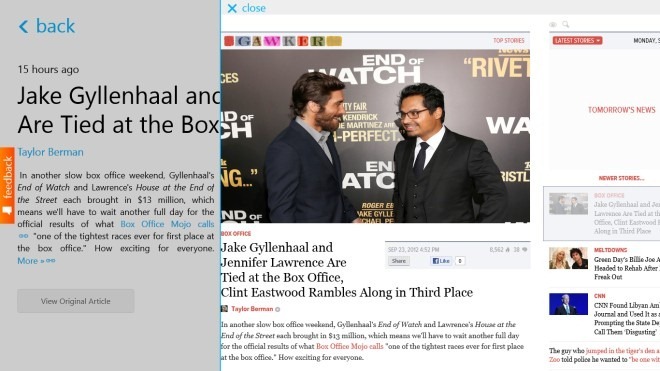 All in all, News Bento is an awesome application to stay connected with the subjects of your interest. It works only on Windows 8.