Ninite – Install Multiple Deskop Applications In One Go
If you have just finished a fresh installation of Windows 7 or any other OS on your system then there is no need to install each and every commonly used applications manually. Try a free service called Ninite which lets you create a single installer for multiple applications and automates the whole installation procedure.
Simply run the installer and all of the included applications will be installed, you can create a single installer for Google Chrome, Firefox, Opera, Windows Live Messenger, VLC player, Picasa, MSE and many more. There are up to 59 different programs packed into one simple app.
The process is dead simple, go to the Ninite page, select the applications which you wish to include, and click the Get Installer button.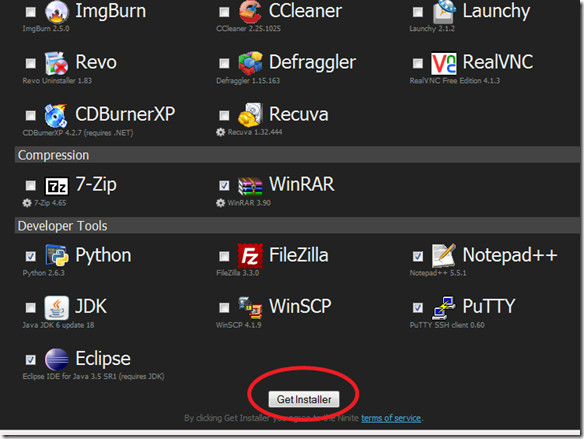 Once the installer is downloaded, simply run it and it will install all of the applications which you selected in the above step. Please note that Ninite installs all the applications with the default settings.
It works perfectly on Windows XP, Windows Vista, Windows Server 2003/2008, and Windows 7. Enjoy!