NirLauncher: Launch Any Nirsoft Application With This All-In-One Suite
We have previously covered a number of applications developed by Nirsoft, all of which have come from a developer named Nir Sofer. Nirsoft has always provided top quality software that have helped many advanced and novice users to perform laborious tasks easily, recover passwords, manage network connections, fix system issues and much more. Now, Nirsoft has released an application suite which contains all the useful Nirsoft applications, known as NirLauncher. It is a portable application that can be used to launch any Nirsoft application, and to get detailed information about each program present within the launcher.
NirLauncher interface is divided into 13 convenient tabs, each of which contains a number of portable applications that can be launched by simply double clicking on them. The Password Recovery Utilities tab contains applications for recovering browser, remote desktop, dialup and other network connection related passwords. Each application is accompanied by a description, version name, version release date and a webpage URL that can be used to navigate to the developer's webpage for that particular application. Network Monitoring Tools section (as the name suggests) contains application such as CurrPorts, SmartSniff, Wireless Network Watcher etc, which can help you monitor network latency, check open ports, identify network vulnerabilities, ping active hosts and much more. The applications present in the Web Browser Tools section are mainly meant to retrieve browser history, cache data and downloaded content, whereas the Video/Audio related Utilities include apps for  installing codecs, retrieving video cache, capturing flash video file streams and adjusting volume control settings.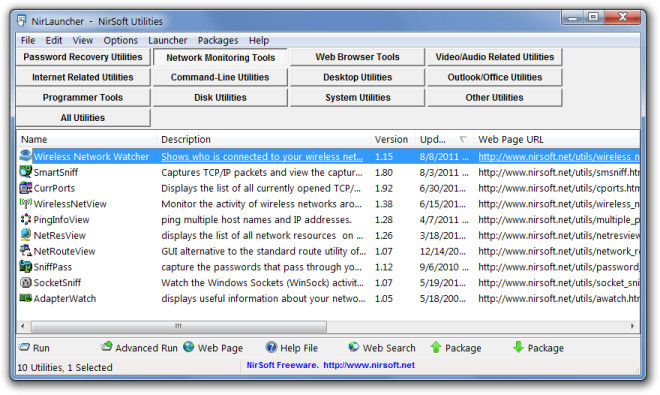 The Internet Related Utilities appear more like network applications, since many of them are meant to perform DNS and IP-related lookups. Command-Line Utilities, on the contrary, provide GUI based applications for performing simple commands such as obtaining wireless network information or performing a WhoIs lookup. Novice users may find the Desktop utilities to be more useful, since this section includes programs such as an uninstaller, special folder viewer, shortcut and clipboard manager. MS Outlook users may find the four outlook related applications in the Outlook/Office Utilities section. These applications can help MS Outlook users extract multiple attachments, get Outlook stats and information about installed Outlook add-ins.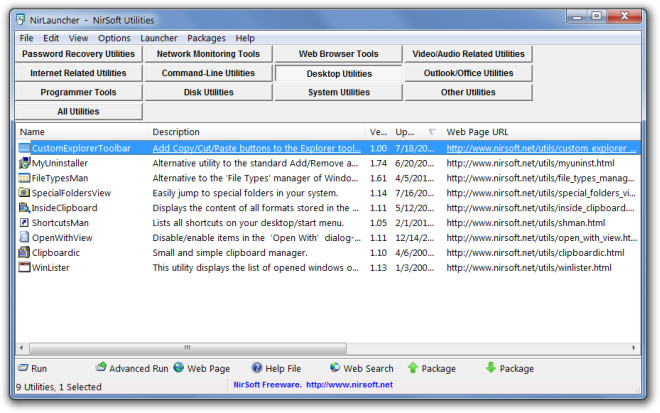 Other application bundles include Programmers Tools (DLL Export Viewer, GDI View, Device IO View and HeapMeView), Disk Utilities for searching and managing hard disk content, and System Utilities meant to help you with battery, USB, registry, and other system issues. Other Utilities contain some miscellaneous applications, while you can view all available apps in a single view using the All Utilities tab. It must be noted that some application are listed in multiple categories.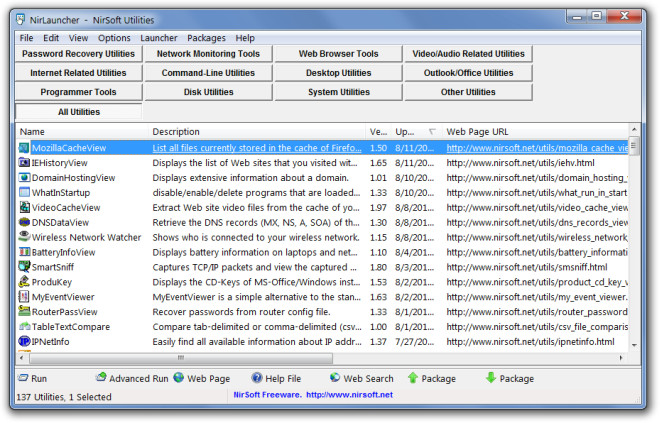 Note: Don't be surprised if your anti-virus detects an application as a threat when you launch NirLauncher, as programs like PasswordFox are meant to help you retrieve passwords, and for this reason, they can be mistaken for malware. NirLauncher works on Windows XP, Windows Vista and Windows 7.