Easily Tweak, Backup & Restore Different Volume Profiles On Windows With Nirsoft SoundVolumeView
Nirsoft is well-regarded for creating top-notch and highly simple Windows applications that are small, portable, minimal and yet comprehensive when it comes to the task they are designed to perform. You won't find in them any redundant settings and options that might needlessly complicate things. Take SoundVolumeView for example, the developer's brand new effort that allows you to control the volume for all sound devices that your PC has. Crammed in a small 75KB package and having support for both x64 and x86 architectures, the tool makes it possible to get a general overview of current volume for all active sound components and lets you individually control the volume of each component and application, along with the ability of selectively muting and unmuting them. Details to follow after the jump.
As usually the case is with Nirsoft apps, the program is free to use, portable, and sports a straightforward UI. The interface carries a large table-like area that displays the pertaining details about various sound-related parameters of each process, app, hardware component and the like. The information it presents may feel a bit complicated for the uninitiated, but audiophiles are surely going to make good use out of it. For each item in the list, the tool displays its name, type, device name, muted/unmuted state, volume in dB, volume percentage, min volume, and so on.
SoundVolumeView also allows you to selectively increase and decrease volume of the highlighted item in increments. You can either use the Volume menu or the supported hotkeys for the purpose. Here's a quick look at the default hotkeys you can use:
F7: Mute
F8: Unmute
F9: Mute/Unmute switch
Ctrl+1: Decrease volume 1%
Ctrl+2: Increase volume 1%
Ctrl+3: Decrease volume 5%
Ctrl+4: Increase volume 5%
Ctrl+5: Decrease volume 10%
Ctrl+6: Increase volume 10%
Another exciting feature of SoundVolumeView is its ability to let you save all your current sound settings into a custom profile –  very useful if you use different sets of volume levels on different times or occasions, and don't want to manually change them each time. The sound profile automatically backup information about volume level of components, mute /unmute state and default render and/or capture device. You can easily store the displayed information to HTML, CSV, XML or TXT files, and load any previously saved profiles.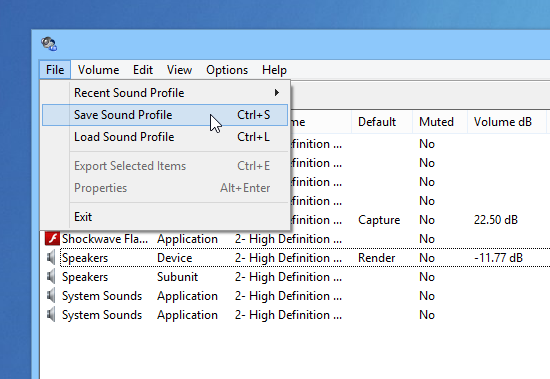 So there you have it, another great freeware tool from Nirsoft that's simple, easy to use and just works. You can download it from developer's page and use it on Windows XP, Windows Vista, Windows 7 and Windows 8.