No Mercy Kills Running Applications Instantly
To kill a running program in Windows 7, Vista, or XP you would probably go to Task Manager and end the program from there. If it doesn't terminate then ending the program process is the fastest way to kill it.
But there are situations when a program will start over and over again, and killing it one time won't help. In such situations you will need a tool that can automatically kill the program every time it starts.
No Mercy is a tool that does exactly that. All you have to do is enter the complete program name or process name(ending with .Exe extension) and hit Kill. If the program is starting over and over again, then you can check Kill Repetitively checkbox and hit Kill.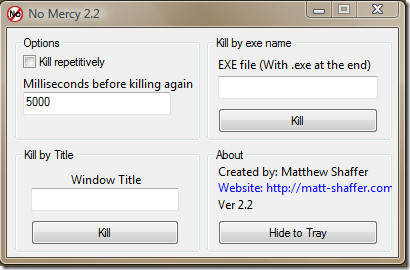 There is also an option to define the number of milliseconds before the program can be killed again.
Note: Killing the program will result in loss of all unsaved session and killing the wrong process can crash your Windows. Make sure you know what you are terminating before doing so.
It is a portable tool and works on all versions of Windows. If you are looking for a more advanced tool, give Process Assassin a try. Enjoy!