Nokia Music Comes To Windows 8 & RT; Impresses On Every Front [Review]
Nokia's foray into the world of music started quite a while back, when the company used to sell its XpressMusic line of mobile phones that focused on music playback. Even though the series had its moments when it shined, it was quickly overshadowed with the demise of Symbian phones. Fortunately, the concept still lived on as Nokia Music and translated over to Windows Phone back in September as a music streaming service and online store. So far, this offering by the Finnish phone maker has been enjoying its success on mobile platforms only, but that changes today, as Nokia has released the Nokia Music app for Windows 8 / RT. From what we have seen so far, it seems to be an awesome addition to the Windows Store.
Nokia Music app looks fairly elegant and boasts a captivating UI that is easy to navigate. To make the process of playlist creation quick, easy and fun, the app lets you create custom music Mixes by choosing your favorite artists. Simply type in the names of one or more artists, and let the app automatically generate a music playlists containing tracks by the specified artists for you. In addition, the app houses a wide array of predefined mixes that you can click or tap to instantly start listening to a tune.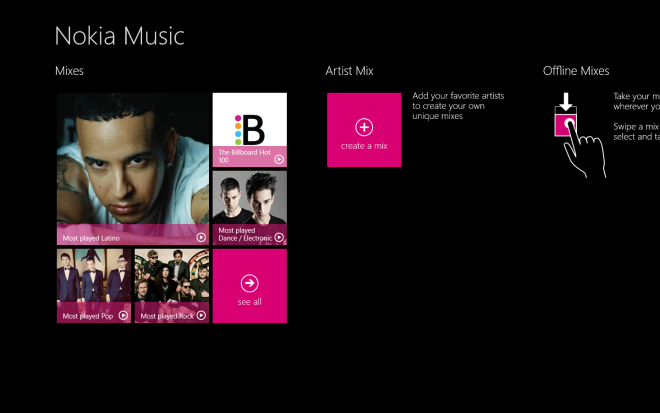 The service doesn't come free, of course, and you'll need to purchase a monthly subscription (for $3.99) in order to enjoy all its features, including unlimited song skips, unlimited offline mixes, high quality audio, listening to your music anywhere, synchronized lyrics, and a few additional perks. You can still try the app without the subscription though, as Nokia Music allows playing up to 30 seconds of a song as a preview for those who haven't subscribed.
Those who want to test drive the service before shelling on the monthly subscription can also opt for a 7-days free evaluation trial, which makes all the paid features available to you for a full week.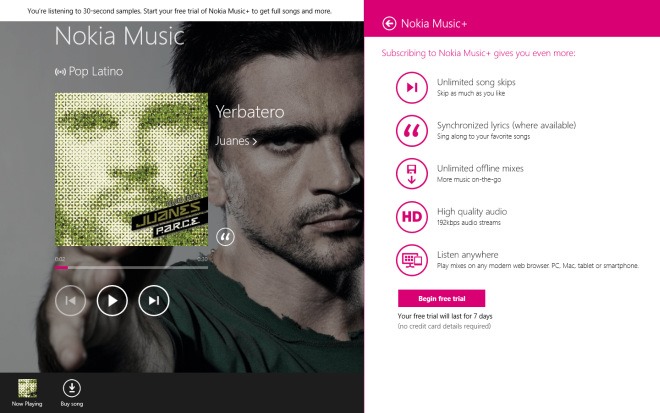 When it comes to the available music, there is a gargantuan selection to choose from. You can select among top mixes, top charts, mix radio spotlight, as well as a host of music genres including blues, classical, country, rock, rap, hip hop, dance, electronic, metal and much more. In a nutshell, the huge music collection isn't likely to let you get bored anytime soon.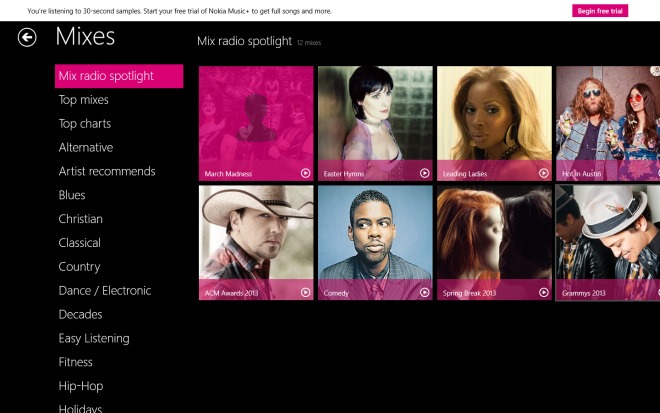 Apart from streaming music from the web, you can listen to the songs already stored on your local drive. This feature eliminates the need of having a separate music player to listen to your offline library. The app instantly scans the music stored on your local storage, and makes it available for playback in the 'My Music' section.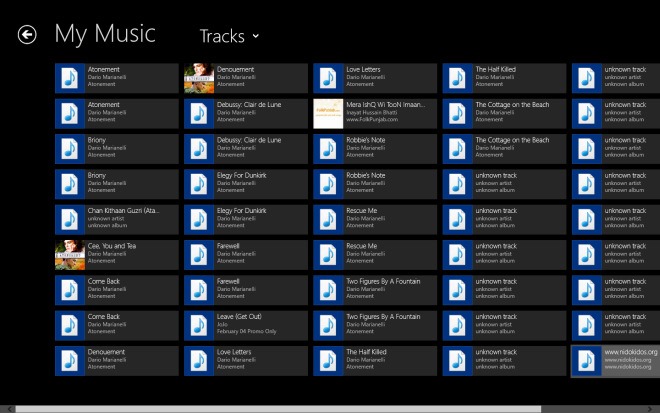 Songs can also be purchase directly from Nokia Music. The song description page displays artists name, album, song length and price. For easily managing your playback while working in other apps, you can snap Nokia Music app to left or right of the screen using the Windows 8 snap feature.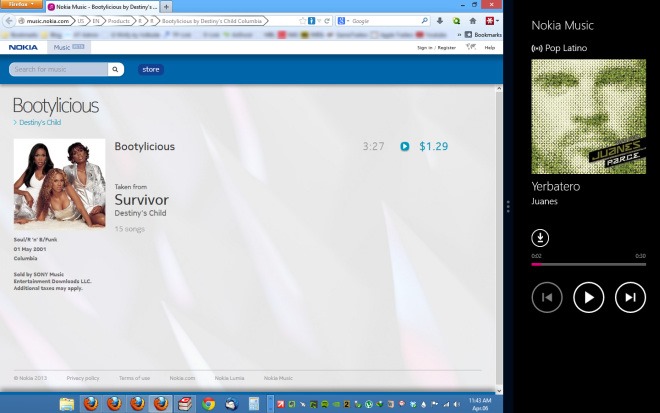 The Take Offline feature is rather handy and allows you to download a complete mix, hence allowing you to listen to it without having an active internet connection. Lastly, you can pin the selected mix directly to Windows 8 or RT Start Screen.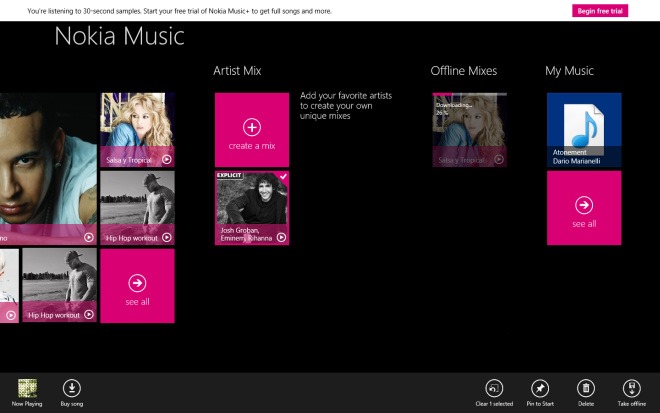 Driven with an impressive design and boasting fantastic music features, Nokia Music is definitely one of the best music playback and streaming apps to hit Windows Store.