Create Custom Windows 8 Start Screen Tiles For Programs, Folders & More
Windows 8 Start Screen has been both lauded and loathed since its unveiling. Microsoft claims that the new Start Screen proposes a better way of user interaction, but to a vast majority of folks, Microsoft has actually doomed the OS by shrinking desktop usage. Whatever the case is, the Start Screen surely feels like it lacks some customization options. While you can pin any application (including both Modern and standard UI apps) to the Start Screen and personalize the background, there are no customization options for the tiles. A few days ago, we covered a Windows Store app called Custom Tile Maker, which lets you design and pin a grid of your own Start Screen tiles from an image of your choice, but the app is merely cosmetic; it doesn't allow launching custom apps from the tiles. XDA member Argony-OT has developed a tool called OblyTile that lets you do just that. Not only can you launch applications through these custom tiles, you can also associate them with web URLs, network shared directories, files or folders to quickly access the target location from the Start Screen.
Creating a new tile with this application is just a piece of cake. After launching it, type in the Tile Name (you may toggle Hide Tile Name option) and then select the target file that you want to associate with the tile. The application supports almost all types of files, which means, not just limited to apps, but you can assign an image, video or audio file, as well. Program Argument is optional, and should you want to input an argument, for instance, command-line argument then enter it here.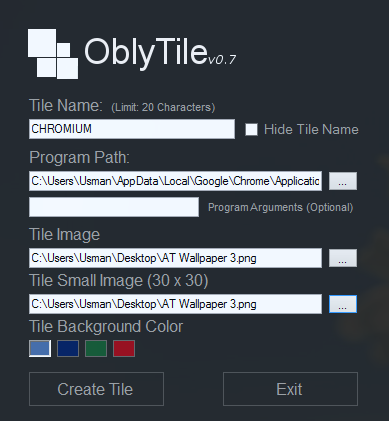 Next up, select Tile Image and Tile Small Image, the latter of which is confined to 30 x 30 pixel dimensions. The Tile Image failed to implement large images during testing, so make sure your image size is not too large. Lastly, you may specify Tile Background Color and then hit Create Tile to add the new tile to the Start Screen.
Unlike Custom Tile Maker, the tile image created with OblyTile remains proportional, irrespective of the image's original dimensions. All the created tiles are saved in C:\ProgramFiles\OblyTile folder. The aforementioned directory carries tile information, such as thumbnail, image and launcher data.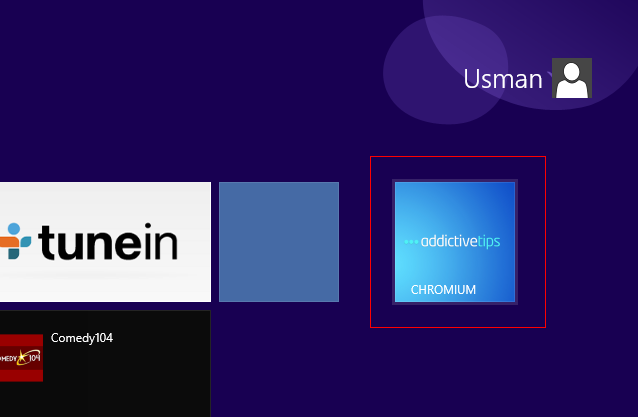 In a nutshell, OrbyTile is a must have tool for any kind of Windows 8 Start Screen tile personalization. It's a portable application that works on both 32-bit and 64-bit editions of Windows 8. Testing was carried out on Windows 8, 64-bit.