Official 8tracks Radio App For Windows 8 Impresses With Great UI & Music Discovery Options
Being an avid music listener, I love fiddling around with different radio apps. After trying out services like Pandora, Last.fm and Spotify, I recently stumbled upon 8tracks and found it to be pretty amazing to say the least, especially with all its social networking and mood-based music exploration features. After enjoying critical acclaim on iOS and Android platforms, the app has finally landed on Windows Store. 8tracks radio allows you to listen to user-curated music playlists and follow other 8tracks users (called DJs) in order to stay updated on their music collection.
What sets 8tracks apart from other similar services is its mood based music exploration feature, which allows you to explore a myriad of music genres based on a particular taste, occasion, genre, or country. Users can also create their own playlists and bookmark tracks added by other users. The interface of 8tracks for Windows 8 fully compliments the Modern UI that the latest OS is known for. You can browse music either by featured tracks, which displays the featured, trending, popular and newest user-mixes, or by a particular mood.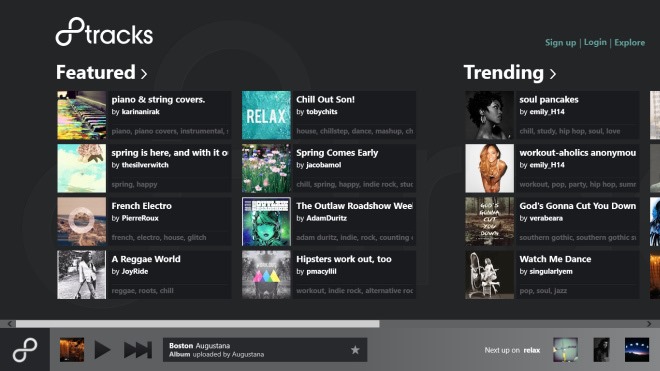 Hitting Explore at the top-right corner presents you with the explore screen, where you can discover music by selecting some predefined moods such as rock, relaxing, smoke, latin, chill, rap, love, classic and so on. You can also mix multiple mood parameters when filtering the results. Likewise, if you can't find your desired mood from the list, you can always make use of the custom search feature and type in anything you wish. 8tracks also allows playing music in the background, which means you can use other apps while enjoying your favorite tunes.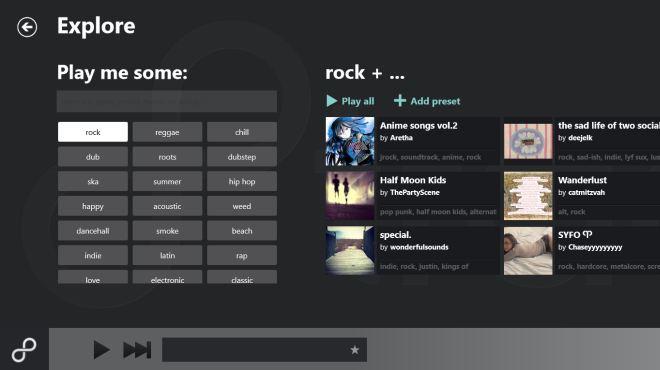 While you can listen to 8tracks radio without logging in with your 8tracks account, signing in gives you some additional privileges like following other users (DJs) or bookmarking favorite tracks. In case you don't already have an 8tracks account, the app lets you sign up for a new one directly by providing the required credentials, or using your Facebook account.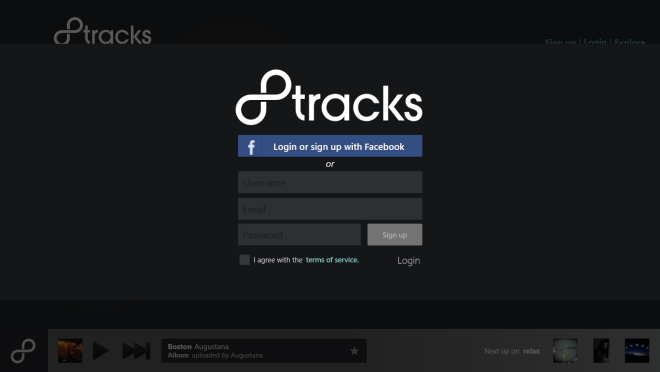 Once you play a track, you get playback controls in the Action bar to play, pause and resume playback, or skip to the next track. Furthermore,  the app displays current track information like song title, DJs name, album name etc on the playback screen. You can also purchase the current track from Amazon store by clicking its direct link from the list in the playback screen. There's also a YouTube link there, that lets you watch the track's video on YouTube. The minuscule star button above the YouTube link lets you add the track to your favorites (bookmarks) for quick future access.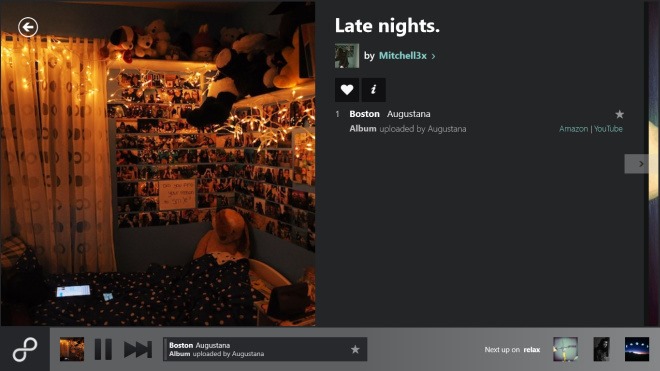 Social network integration is becoming increasingly popular day by day. Spotify recently introduced the ability to follow users and continuing this norm, 8tracks also includes elements like browsing other users' profiles and following them in a Twitter-like fashion.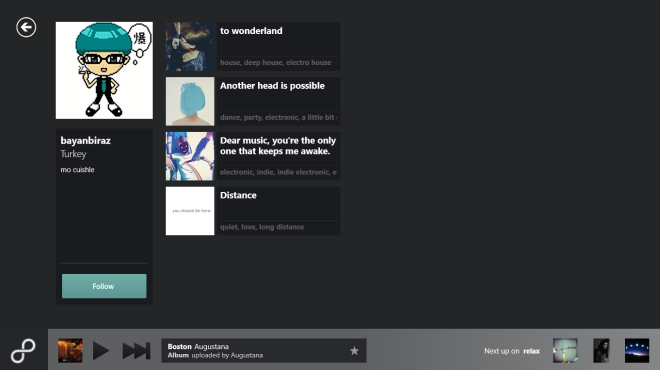 8tracks radio for Windows 8 and RT is available at Windows Store and can be downloaded for free. Testing of the app was carried out on Windows 8 Pro 64-bit.