Official British Airways Inspiration App Now Available For Windows 8
Most of us can only dream of traveling around the world, especially when we don't really have the money to fulfill such aspirations. Since Christmas is just around the corner, you might be planning to pay that long delayed visit to your loved ones in another part of the world. Our UK readers would be delighted to learn about the all new The British Airways Inspiration App for Windows 8 and Windows RT. This dazzling addition to the Windows Store library lets you book fares from London to different destinations around the globe. You can discover exotic destinations and cities, plan holidays based on weather condition or month, or simply ogle at behind-the-design videos of the airline itself. To download it, open Store from Start Screen and enter its name in the Search Charm. Select it from the search results to navigate to its Windows Store page and click install.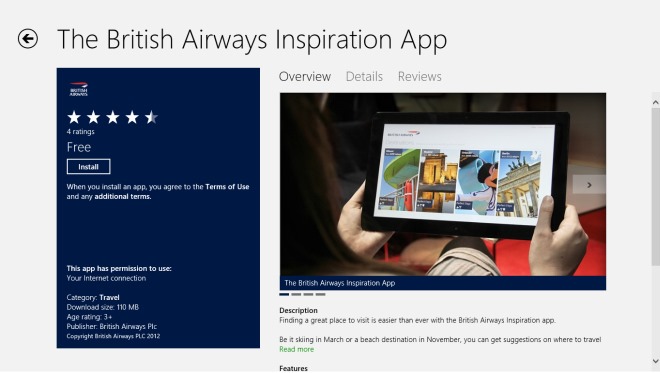 The app features a beautiful metro inspired interface. Everything looks meticulously designed from top to bottom. You can use the mouse scroller or swipe gestures to bring additional areas of the app into view. The app is divided into several sections, namely recommended Destinations, Wish list, Discovery, and Behind the Design.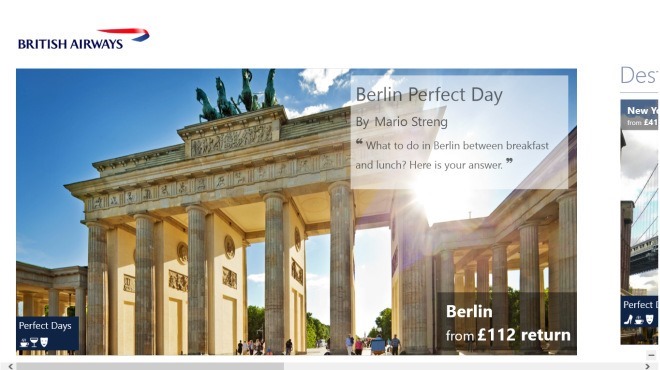 After you've selected your preferred destination, the app provides information regarding fare prices to the location by different months of the year. It also lets you know of weather conditions throughout these months. The app also features a Bing map of the city and 'Perfect Day' suggestions that help you discover various landmarks of the selected location, saving you from the hassle of finding new places in a town you've never been to.
Right-clicking or swiping in from bottom or top shows the appbar from where you can add the current destination to your wishlist, pin it to the Start Screen, create a perfect day, or log on to the British Airways website.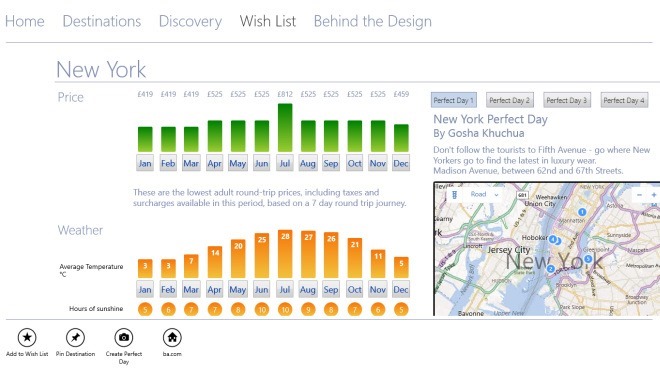 Discovery is a rather interesting bit of the whole experience. Globetrotters can see holiday recommendations based on month of the year, holiday type or temperature. You enable or disable multiple parameters, and the app suggests places based on these.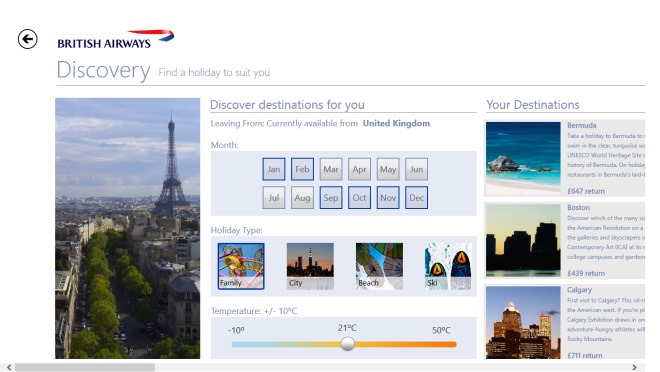 In the 'Behind the Design' section, you can explore and drool over the various cabins of Boeing 777-300. It provides a visual tour of First Class, Business Class, Premium Economy and Economy class cabins of the plane.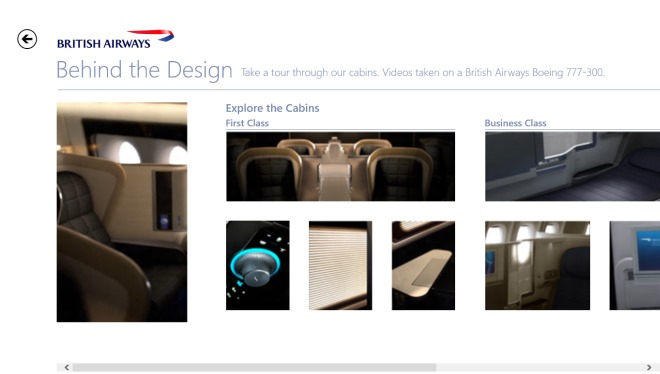 The short video clips play in full screen and look absolutely stunning, to say the least.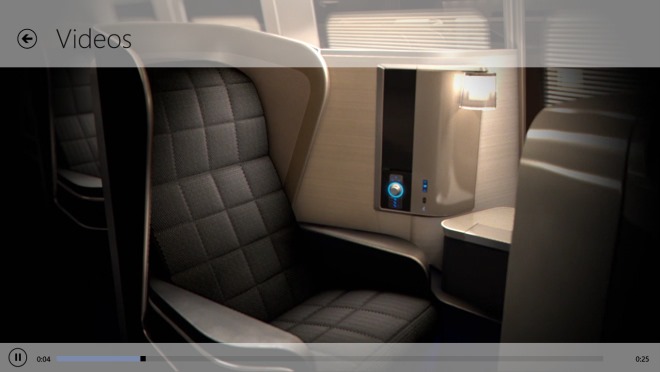 All in all, a must-have app for frequent UK-resident travelers. The application works on Windows 8 and Windows RT.
Download The British Airways Inspiration App