Dailymotion Releases Its Official Windows 8 Modern UI App
Dailymotion is, as of this writing, the second largest video sharing service on the planet (YouTube being the first). Following many other companies' footsteps, the French based video hosting website has recently let out its Windows 8 Modern UI app, so you don't need to fire up the web browser every time you want to stream those TED talks or top MTV charts. The app is simply called Dailymotion and is available for free at the Windows Store. Akin to many other Windows 8 exclusive apps, Dailymotion is based on its Modern UI (formerly known as Metro UI – Microsoft dropped the nomenclature due to some legal issues with German retail giant, Metro AG). Continue reading for more details on Dailymotion Windows 8 app.
Dailymotion can easily be downloaded from the integrated Store app of Windows 8 (the download link provided at the end of the post will automatically redirect you that page). Service dedicated apps have seen incredible popularity during the past few years, but mostly on mobile platforms, such as Facebook, LinkedIn or YouTube etc. It is only recently that the Redmond giant has set a new trend of this whole apps for desktop tradition. Dailymotion, keeping up with Modern UI standards, runs in full-screen and looks extremely neat. The snappy interface is user-friendly, and puts all the recently featured videos on the main screen. You can click or tap on any video to instantly start watching it. The scroll wheel or horizontal swipe causes the main menu to move horizontally. The main screen lists all the categories that you would normally see on the Web API as well.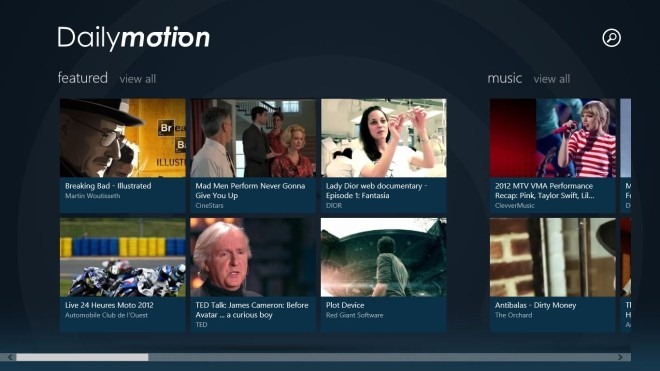 There is also a magnifying glass-like search button at the top right. You can use the search function to look for any particular video after entering the specific keywords.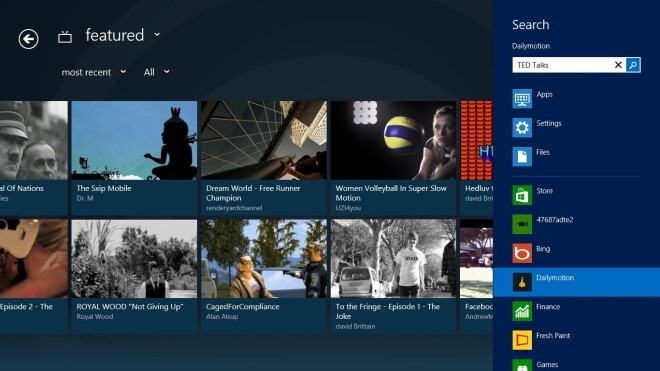 Video playback is smooth and fluid, while the colors look vibrant and sharp, both in full screen and windowed mode. Hovering mouse pointer over the video lets you see pause/play, volume and fullscreen  controls, as well as seek bar. The preview window also displays uploader's name, total views, upload date and so on. Likewise, you can also see a list of related videos to the right of the interface.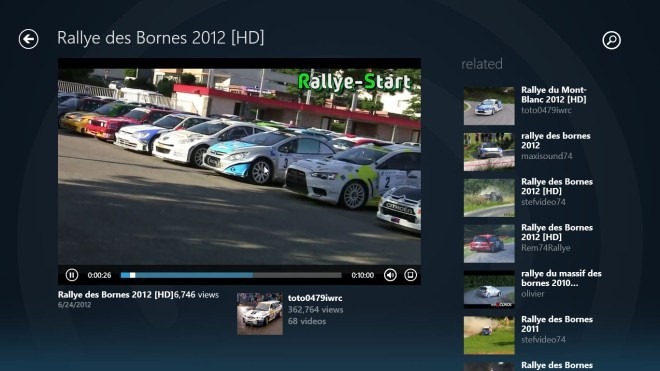 Fullscreen playback also works like a charm, whilst keeping onscreen controls to minimum. The seek slider displays the total time of video playback, using which you can instantly skip to any section of the video.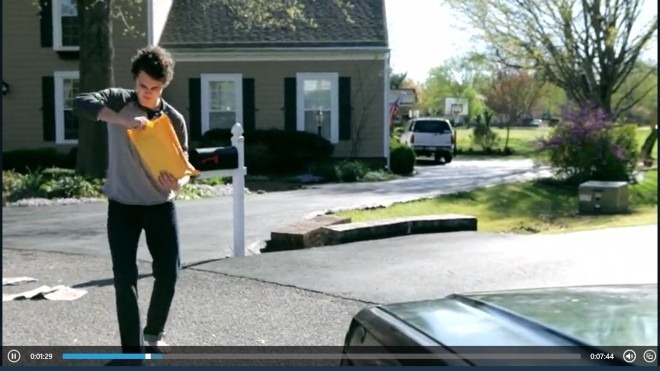 Dailymotion is a neat new addition to Windows Store's growing list of quality apps. The only nuisance is you cannot login to your Dailymotion account from within the app, which I think the developers would already be working on. It works only on Windows 8.