TripAdvisor Brings Its Travel Guide App To Windows 8.1
When you are travelling in foreign places where everything is alien to you – from people's culture to their food, places, names and clothing etc. – it's not unusual to feel intimidated and lost. That's why it's always handy to have detailed information about the country that you plan to visit before you book your flight. TripAdvisor.com is a popular travel website that provides a huge directory of information and reviews related to travel. The company has now launched its first Windows 8 app dubbed TripAdvisor Hotels Flights Restaurants. The Modern UI app works on Windows 8, 8.1 and RT, and aims to be your handy companion should you plan to take your Windows PC or tablet along on your next tour, by providing you with a bevy of information regarding popular hotels, great restaurants and destinations around the globe.
The app sports a clean and well-though UI. With over 100 million reviews and opinions by travel buffs, you won't have a hard time choosing the right destination or finding the lowest airfare for your next vacation. The main screen opens up to Rio de Janeiro, boasting a beautiful landscape view of the city. At the top, you will find navigation controls to select Hotels, Restaurants, Things to do, Flights, Destinations, and More.  If you already have a TripAdvisor account, all your existing content will automatically synced .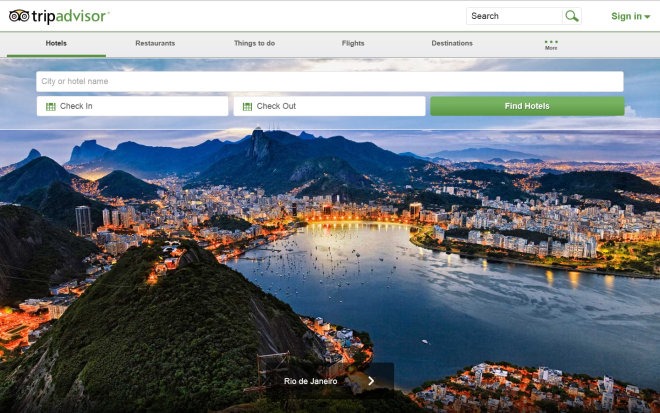 The app also has a left side bar that makes navigating between the aforementioned sections easy, in addition to letting you quickly access your Saved places. The saved items comprise of the destinations that you have previously starred for quick access later such as your wishlist of hotels, or restaurants where you plan to eat.
The app is also well-optimized for the touch interface of Microsoft's tablet-oriented OS. Another useful feature of TripAdvisor is the app's deep integration with Bing Smart Search. This feature enables you to jump directly into the app by tapping any relevant search results from Microsoft's search engine on Windows.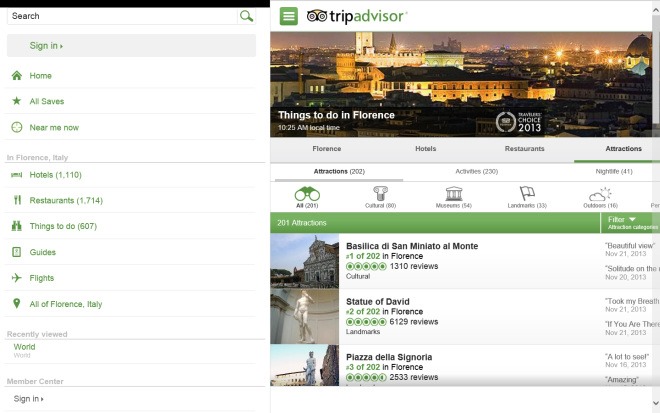 Upon selecting a country, town or city, TripAdvisor automatically highlights nearby restaurants, hotels, museum, landmarks and other famous locations of interest to travelers. And if you plan to view only the best from the lot, TripAdvisor also has a few Travelers' Choice award winners.
The ratings and reviews are completely based on users' experience. When you select a destination, TripAdvisor also lets you view a variety of pictures of and related to that place.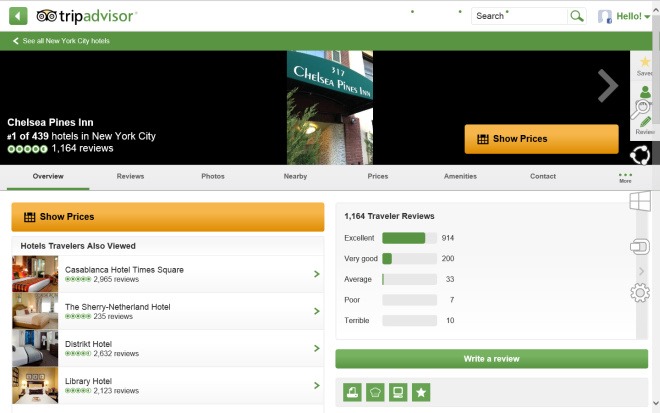 TripAdvisor also has iOS and Android apps, which have seen a combine total of 69 million downloads so far. The Windows version is available absolutely for free and can be grabbed via the following link.
Install TripAdvisor Hotels Flights Restaurants from Windows Store