Hands-On With The Official Twitter App For Windows 8 & RT [Review]
Official twitter apps for most mobile platforms have been available for quite a while, but Windows 8 and RT have been missing from the picture till now. Microsoft's tablet-optimized OS has been gaining a lot of traction since its release, and it's about time for Twitter to bring its own Modern UI app to Windows Store. While it's a little late to the show, the app does a great job in delivering a snappy Twitter experience on Windows 8 & RT devices, both PCs and tablets alike. Twitter for Windows looks quite similar to it's mobile brethren, packing the same feature set, albeit in Microsoft's Metro design language. You get to discover topics of your choice, receive suggestions on who to follow, browse tending topics and so on. In addition, it boasts some Windows 8-exclusive features as well, such as the snap view to place the app on the sides of the screen, support for Windows 8 Share and Search Charms, notifications and live tiles support, etc. What's more, it lets you browse and open URLs posted in tweets and view images in full screen, all within its own interface.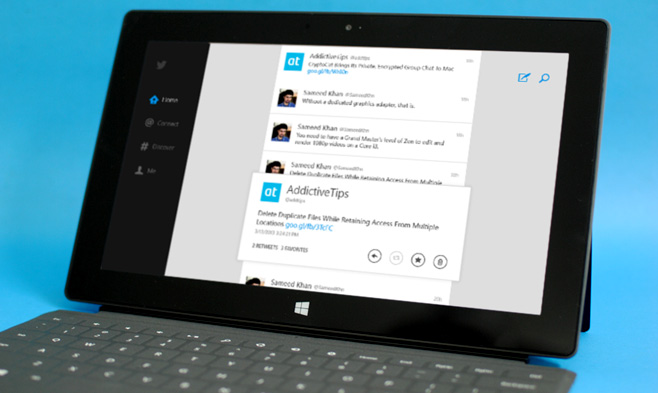 In coherence with the Modern UI, Twitter for Windows 8 sports a clean and captivating interface. On first run, it asks you to enter your Twitter credentials to sign in to your account. Just input your username and password, and hit the Authorize app button to continue. The app also allows to sign up for a new account without having to use a browser.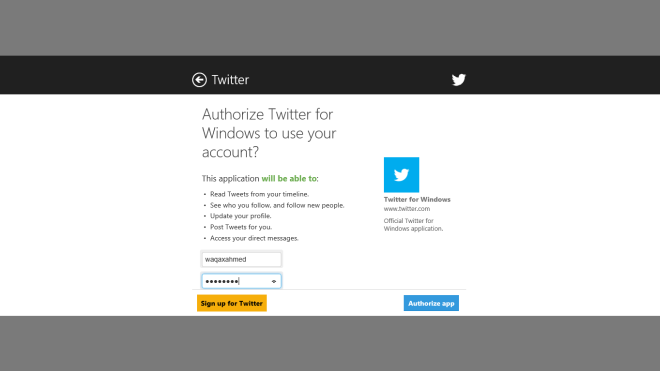 After trying out plenty of third-party alternatives like ROWI, Tweetro or MetroTwit – all of which looked quite fascinating to say the least – I had high hopes for the official Modern UI app. To my delight, it seems the wait was well worth it. The app's beautiful and minimalistic interface contains a navigation bar to the left that lets you access Twitter's Home, Connect, Discover and Me sections. The tweets from people you are following appear under the Home tab. Clicking or tapping a tweet pops it out a bit, revealing controls to let you retweet it to your timeline, post a reply or add it to favorites.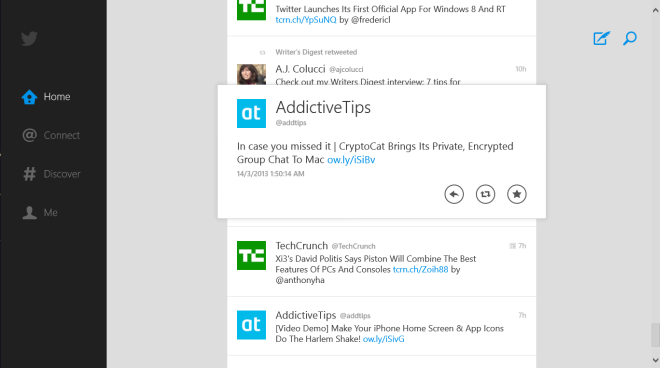 Users can ogle on their own profiles under Me section. Along with reading your own recent tweets, you can edit your profile, access your direct messages, revisit your favorites, and view the total number of your tweets, followers and people that you are following.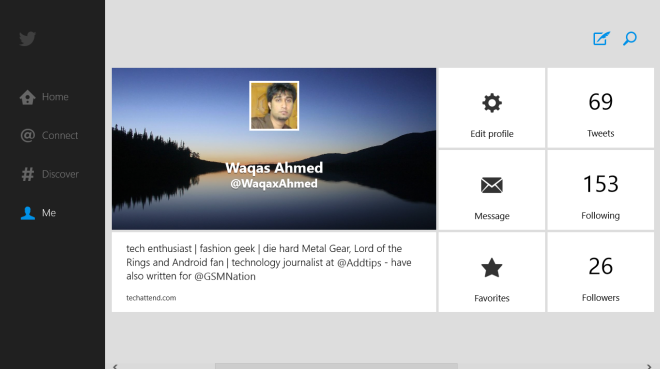 To post a new tweet, hit the ubiquitous quill button from the top-right. You can also attach images to your tweets, or and add your location information if you wish.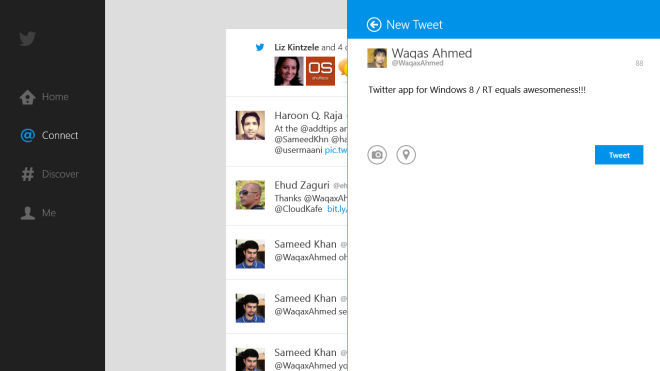 Links posted in the tweets can be accessed without leaving Twitter's interface. Similarly, photos can be viewed in full screen mode. Though if you want, you can use the minuscule circle at the bottom-right to open the link in your default browser.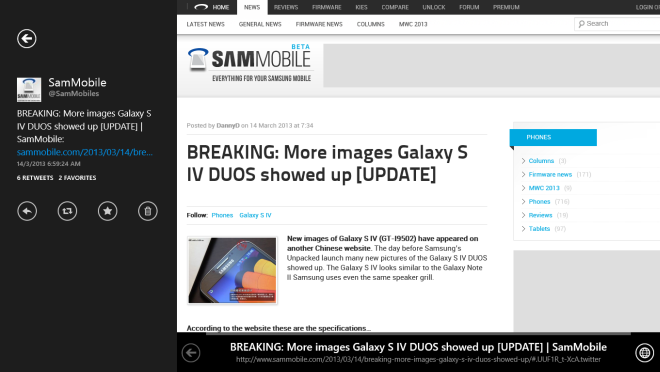 The app's Options bar can be accessed via Settings > Options in the Charms bar, and allows you to toggle notifications for your @mentions, retweets, favorites and new followers, and teak some displays settings for the app's live tile and toast. You can also log out of your account from here, and clear your search history.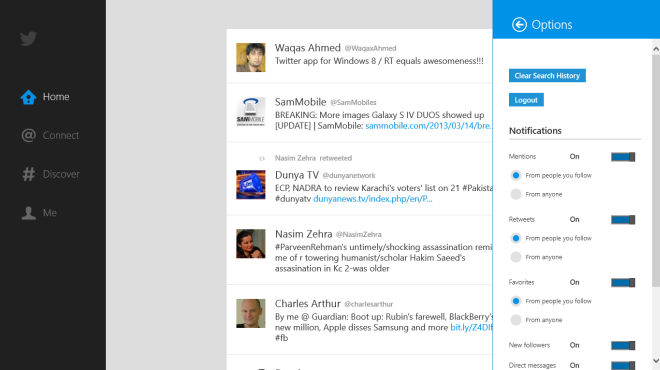 All in all, the company has done a wonderful job in creating an excellent Windows 8 app that Twitter fans had been waiting for. You can download it for free from Windows Store.
Download Twitter for Windows 8 & RT