Click & ShareIt – One Click Screencast, Audio, And Screenshot Sharing Tool
Click & ShareIt is an ingeniously simple application which does exactly what its name suggests – It lets user share files online with a single click. This will come utterly helpful for those who frequently need to share screenshots, screencasts, voice recordings with their friends or co-workers. The functionality for recording screencasts, taking screenshots, and recording voice is build-in. You can share them with an extreme comfort, just perform any action, it will upload the file immediately on its live server, and generate the link to let you share it with others.
The application sits in system tray to let you perform an action quickly. A click on the icon will show you 4 options, Screenshot, Screen recording, Push to talk, and Send a file.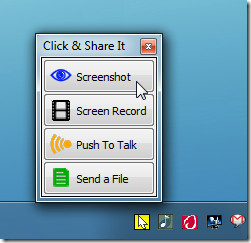 The screenshot taking functionality has a simple usage, you need to capture an area of screen which is to be shared. Once captured, it will instantly start uploading the file and copy the address of the link (where it will be uploaded) to clipboard.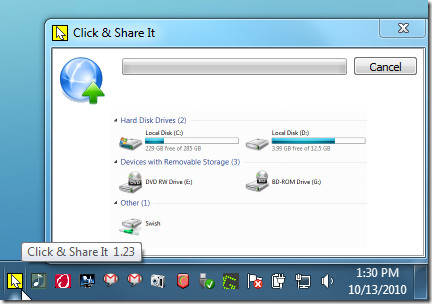 Just paste the link (Ctrl+V) in address bar to verify the image before sharing the link. Please note that to protect privacy, the link will be deleted in 7 days.
Likewise, you can create and share screencasts, just place the screen recording window over an area where the actions are to be performed, once done, it will upload the screen recording file in the same fashion. The Push to talk refers to recording voice via microphone as long as you push the button and file sending option brings up file browser to specify the file which you want to share online.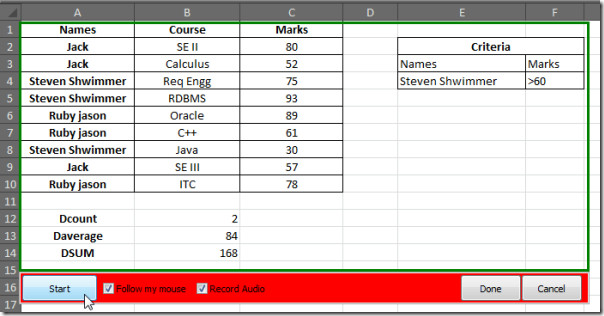 It offers a share manager to organize and manage the files and voice recording you've shared earlier. To use the share manager, you need to sign up, however, you can use Google account to sign-in. As of now it only allows 25 MB of free space, user requiring more space can purchase 1GB package for $5 a month. It runs on Windows XP, Windows Vista, and Windows 7. Testing was done on Windows 7 x86 system.