Open The Run Command Box From The Start Menu In Windows 10
In Windows 10 the first thing you'll notice once you're done admiring the new Start menu is the absence of the search field that was a part of the Start menu in Windows 7 and part of the Start Screen in Windows 8. It's gone now and instead you have the Search bar. The Search bar isn't your average local search; it's also where Cortana resides and it also searches Bing for anything you might type in it (we're still looking for ways to get it to use Google instead). If you get used to the Search bar and the speed at which it generates results doesn't bother you, you can use it to open the Run command box but if you prefer the conventional way of opening the Run box, i.e. from the Start Menu, here's how to do it.
Open the Start menu and click All apps at the bottom to expand the list of apps. The new Start menu features apps sorted alphabetically (which is awesome and something that should be done everywhere). Scroll down to the W section and look for a folder called 'Windows System'. Expand it and it will reveal some very familiar Windows programs like the Command Prompt, Control Pnael, and File Explorer. This is where you can find the Run command. Click to open it.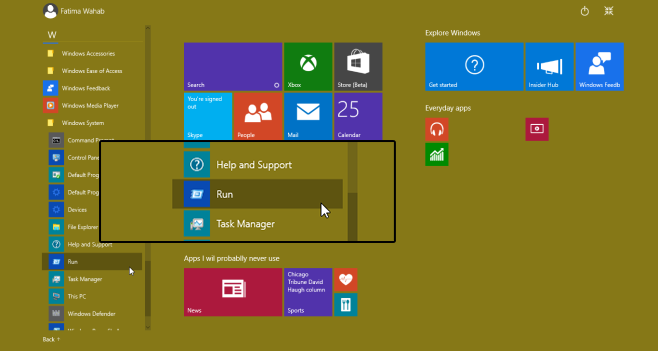 Obviously this is far too inconvenient a way to open the Run command box, especially if you use it very often but since the new Start menu features a lot of space and several different sizes for the live tiles, it makes for a great place to pin the Run command box for easier and quicker access.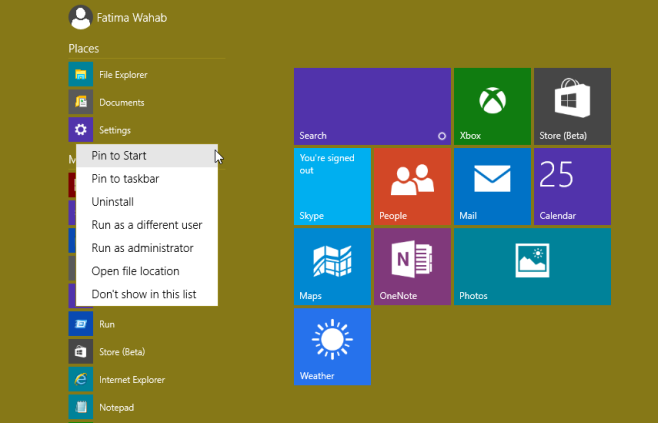 You can pin it from the Windows System folder where it's listed by right-clicking Run and selecting 'Pin to Start'.