OpenPuff: Sign The Document/Application And Hide File Inside Other File
OpenPuff is a powerful Steganography and Marking tool. For those who don't know about steganography, it  is a phenomenon of disguising things in an elusive manner. Here it is referring towards concealing files (data) into other file of different format. Even though steganography has been made public through various kind of tools, this application brings advanced support, such as, password-protection with an option of choosing desired carrier (file).
Marking will abet you in signing the file in a subtle way, which comes helpful to incorporate text into files, and when needed, you can claim ownership by showing the marked text. The interface is small and usage is self-explanatory as the steps to be taken are clearly defined. For hiding a file, click Hide button.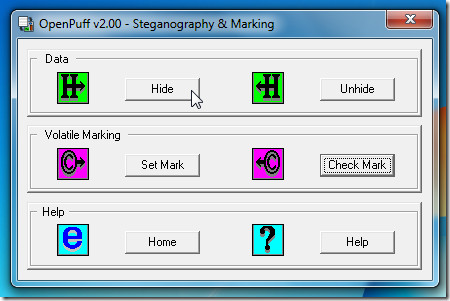 You will see the Data Hiding window, all the steps are defined to hide the file, it starts off with entering passphrase, specifying data to hide, selecting a carrier and then choosing a file format from the list. Once all the settings are in place, click Hide to specify the output folder of resultant file.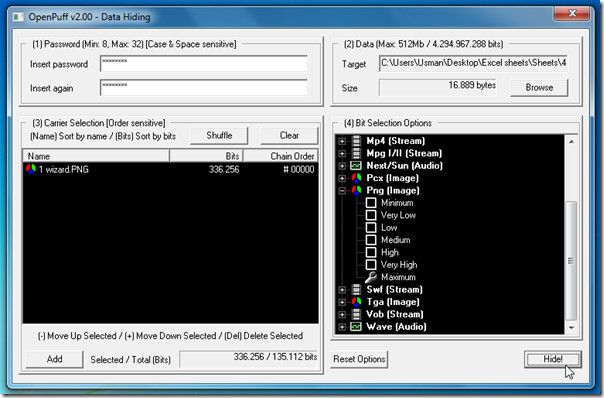 Marking a file is more simpler, clicking Mark will lead you to Marking window, where all you'd require is to insert mark text and specify the file (carrier). Clicking Set Mark will sign the file.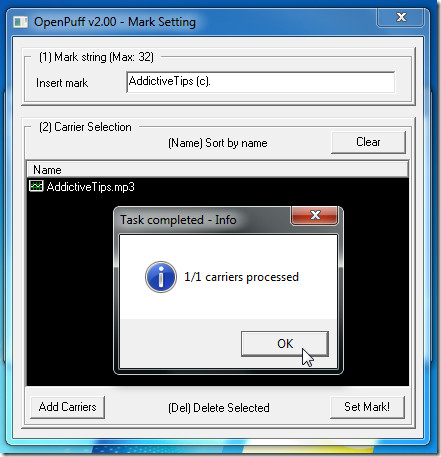 Besides capacitating user to hide files and insert specified mark, it lets you unhide the data and check the file mark easily. Clicking Unhide Data button will bring up window, where you'd require to enter password, choose carrier and select the file option to extract the file. For checking the file mark, specify the designated carrier and it will show you the specified mark instantly.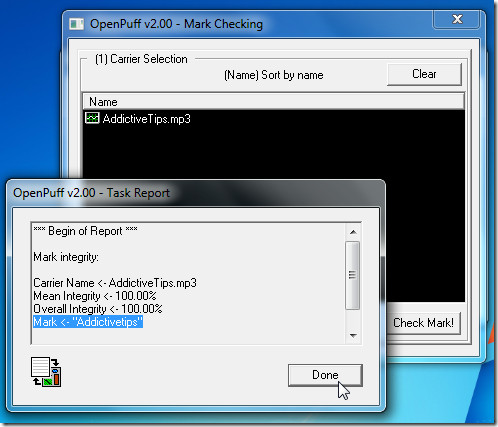 The application is of great use especially when you need to make some data private and marking comes useful in signing your file with your product or company name.
It runs on all Windows based OS, we tested it on Windows 7 x86 system