Optimize And Free-Up System Memory With Extra RAM [Windows]
System slowness is a normally faced issue for most PC users, often caused by lesser amount of system memory. RAM optimization applications, while not adding anything to physical memory, tend to give a speed boost by cleaning up junk from RAM, hence making its usage more efficient.
Extra RAM is a lightweight application that runs in the background and keeps your RAM clean and smooth. Once installed, the application will continue to monitor your PC RAM, and optimize it silently as and when needed. It has a simple interface and shows information about free and available memory.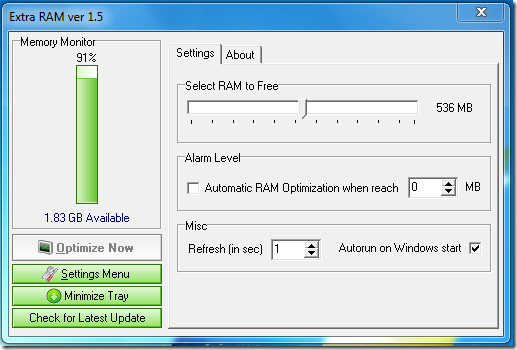 You can set the amount of RAM to free, let the program auto-start with Windows, or minimize it to system tray where it will continue to monitor. It works with Windows 7, Windows Vista and Windows XP.
You may also try Memory Cleaner, MaxMem, and VC RAMCleaner