Organize, Manage, And Track Your Bills For Free With R6 Bill Tracker
Do you want to want to pay your bills on time? If this is your goal then you will need to better manage your bills. Organizing and Tracking is a nice way to pay your bills on time. Instead of using pen, paper, and calculator, you can now use R6 Bill Tracker.
It is a free clutter-free tool for Windows which lets you manage and track all your bills quickly. The developer is quick to point out that most personal finance applications overload the user with features, therefore, in R6 Bill Tracker users will only find those features that help them track their bills in the most easiest way possible.
This is how it works, first add the Payees in the Payee List, then click Add Bill to add a new bill. In the Add Bill window, select the Payee, the amount of cash to be paid(in dollars), and the Bill Type. You can also select the Bill Schedule, as Weekly, Bi-Weekly, or Monthly and then define the range of recurrence.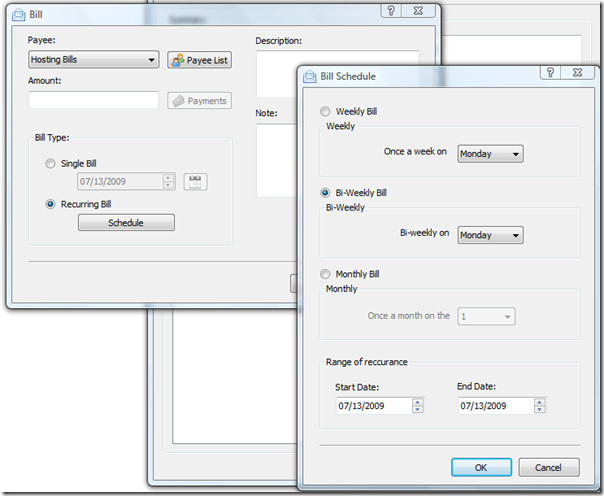 Adding a Description or a Note to make you remember about the bill in future is a great way to better manage your bills. Once all is done, click OK and you will see the summary of your bills on the main window along with all your bills.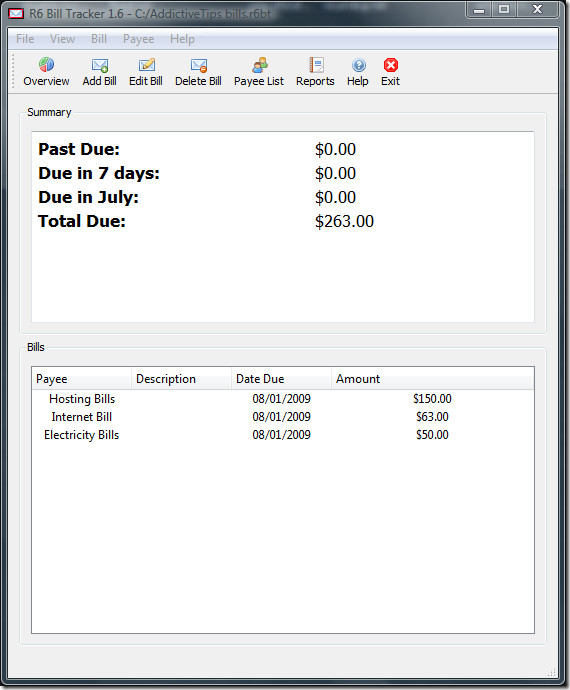 After you have made a payment, right-click the bill and select Make Payment, then navigate to View > Paid bills and you will see an overview of all bills that have been paid. Apart from the basic Overview the Reports section will show you the complete details of all your bills.
The tool has four benefits – Pay bills on time, know how much money you need, save money, and save time. Here are some of the features:
Track bill amounts and dates
Manage payee contact and account information
Know what's due in the next couple days and what's past due
Run a wide range of reports
Make partial payments on a bill
It works on all versions of Windows, including the latest Windows 7. Enjoy!