Organize TV Shows And Rename Episode Titles With TVRename
TV Rename is an all-in-one TV shows management tool which offers a wide range of features to organize downloaded episodes. It allow users to easily rename episodes titles by retrieving information from online TV serials database –  thetvdb.com. They can do a lot more besides only titling episodes files. Users can fetch information from online resources to show complete summary of seasons, episode guides and descriptions while offering direct downloading from torrent indexing websites.
If you've been managing downloaded episodes all by your self, it can lend a helping hand to organize them in a way you want. For instance, it can tell when the next episode will be aired, so you can bookmark the date and time. An efficient folder monitoring system has also been deployed to check for the new episodes, shows and other related content that's been missing from your archive. Being efficient in organizing episodes, you can let it copy the episode files to fill-in your collection gaps.
To begin streamlining your TV shows, click Add button from left sidebar to enter the name of TV serial whose episodes are to be organized. Now click Search to choose the TV serial from the list, specify custom name (if needed), your time zone, and base folder where other episodes are saved. You can also filter seasons by entering only the number of season in Ignore input box. Once done, click OK to download all the information pertaining to specified TV serial.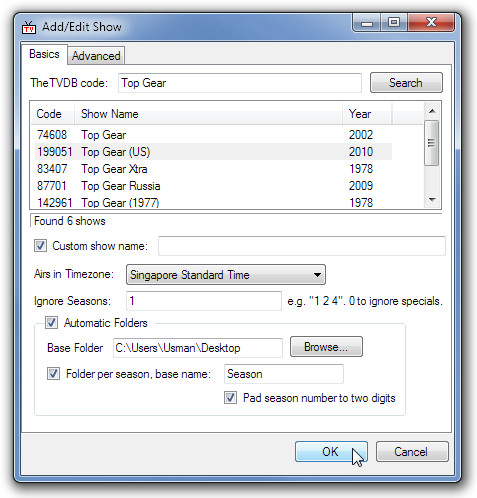 Information of your favorite TV serials can be downloaded in similar fashion. It maintains a hierarchy of seasons along with episodes which you wish to watch in future. The main window shows previously fetched information, including, season overview, cast, episode guides with an option to download missing episodes.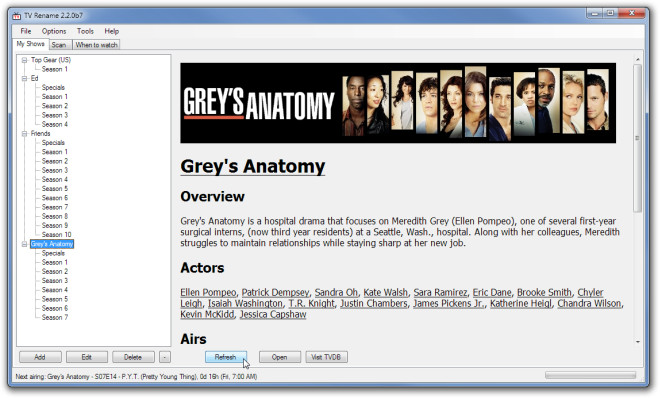 Under Scan folder, it lists down the episodes from selected folder to let you rename their titles in a snap. You can create a list of folders containing episode files for monitoring purposes, so it can automatically fetch correct titles and replace original file names with suggested ones. The When to watch window refers to list of episodes which will be aired soon. Here, you can change the downloading source and find out episodes of  season which will be televised, so you can download them without wasting a minute.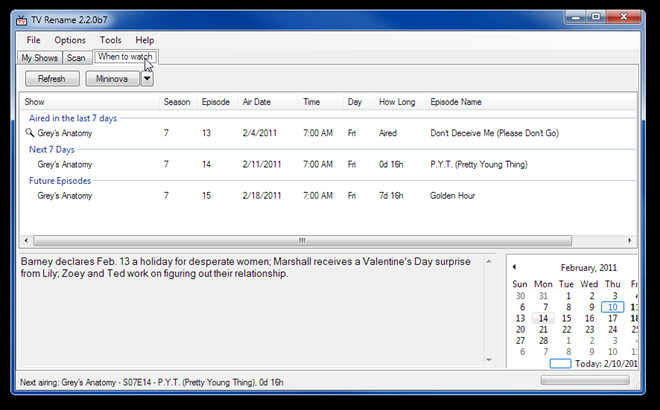 The application is configured to suit average user needs, however, from Preferences, one can change the search behavior, filename replacements, export when to watch list, change previously selected folders to be monitored, and tweak with scan options.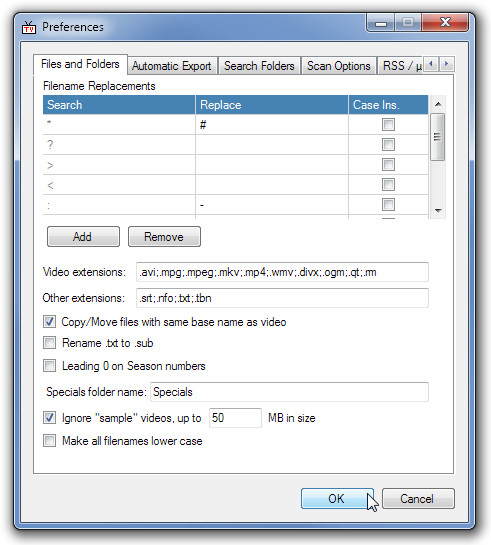 Since it provides a whole lot of features to streamline downloaded TV serials, we consider it an app worth trying out. Handbook explaining each function can be brought up from Help –> Quickstart Guide. It works on Windows XP, Windows Vista, and Windows 7.