Outlook 2010: Attach & Send Large Files With Drop.io
Most email services have limitations, such as, Gmail only allows files upto 25Mb to be attached, Yahoo Mail on the other hand only supports attachment of 20MB per file.
There are hundreds of websites popping up with solutions to share large files, but it is always a difficult process. Most of them will provide a link that you need to share with the recipient, but what about attaching the files with email?
Drop.io is one such website that has taken a very different approach to solve this problem by releasing an add-in which works on both Outlook 2007 and Outlook 2010.
The add-in allows users to attach multiple files(each upto 100Mb large) using Drop.io instead of the default attach method in Outlook. Hit the "Attach Files with drop.io" button and select the files that you want to attach.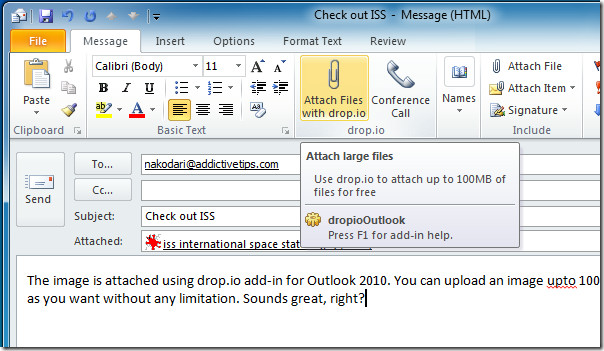 Once attached, you can send the email just like you normally do. The most brilliant part is the way drop.io attaches the files with the email; when attaching an image and sending it to a recipient who is using GMail, he/she will see  a preview along with the download link.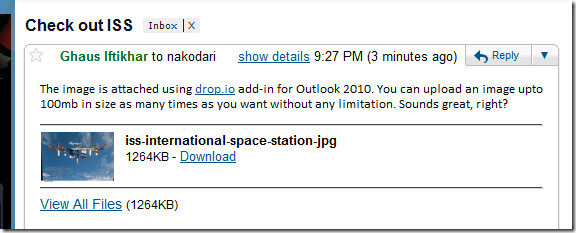 The add-in is free but if you want to attach files larger than 100Mb, you will need to sign up for a premium manager account.
It is a sad fact that the official Microsoft Outlook 2010 blog has a post explaining users how to share large files without attaching them. According to them, attaching has many disadvantages, such as, your recipients might not be able to receive large files and will put their(including yours) mailbox over quota. Hey Microsoft, we are not living in 2004, alright?
Thankfully drop.io causes none of the problem mentioned in the official Outlook 2010 blog post since it does not use the mailbox storage and is actually pretty fast.
Hey drop.io, thanks for the awesome plugin!
Download drop.io add-in for Outlook