Outlook 2010: Email Conversation Manager
If you are in conversation with your customers regarding some sort of business deal for the past couple of months, you will need to go through a bundle of emails to track down the history of your conversation. Microsoft Outlook 2010 offers an easy conversation management feature, so that all of your emails are now grouped into conversations based on the subject of the mail.
Microsoft Outlook 2010 groups emails with the same subjects together and you will see a drop down button along with such emails, simply hit it and you will find all the older emails linked here. Click any email to view it.
Whenever you will click the drop down button, you will see all the older emails attached. If to ignore the main conversation group, all emails inside it will be ignored, same goes for other actions, such as, delete, move, etc.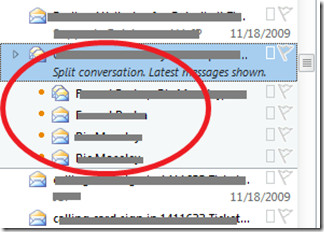 Extra Note: Just to let you know, Thunderbird 3 also offers this feature.