Outlook 2010: Gmail IMAP Support
Many people are looking forward to Outlook 2010, but few are reluctant to give it a try. The reason keeping them back is IMAP support for Gmail and other web services. In Outlook 2007 if you try setting up Gmail IMAP, you will find it to be clunky, slow, or in other words useless.
For those who don't know IMAP stands for Internet Message Access Protocol. It is far better than POP since it allows users to download all their emails as if they are residing locally. In other words, unlike POP, IMAP is a two way communication. If you move your email to a folder titled 'Work' in Outlook 2010, you will it find the email in Work folder when you login directly to Gmail via a web browser.
Microsoft has made it dead-simple to add a new account in Outlook 2010 and when you add a Gmail account, Windows Live account, or any other account, IMAP is automatically configured.
Note: IMAP must be enabled from inside Gmail, Windows Live, or any other web service otherwise it won't work. Update: As one commenter points out below, Windows Live Mail doesn't support IMAP.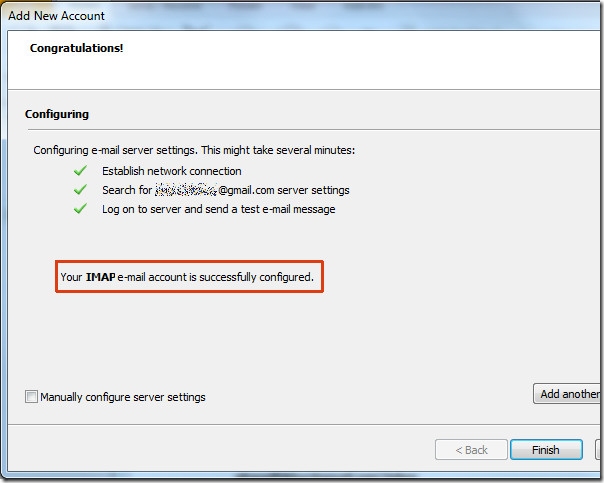 So how is IMAP in Outlook 2010? After using it for a day, moving and organizing my Gmail emails, I have to say that it works seamlessly without any problems. If you are one of those users who ditched Outlook 2007 due to lack of IMAP support, Outlook 2010 will steal you back.
Update: Learn how to enable IMAP email notification alerts in Outlook 2010, here.
Update 2: If you checked My Outgoing Server (SMTP) requires authentication under Outgoing Server tab in Internet Email Settings dialog window, can you please go to Advanced tab and make sure the following are set:
Incoming Server: 993
Outgoing Server: 587
Also make sure the Incoming server encryption is set to SSL and the Outgoing server encryption is set to TLS (you will have to do this first and then change the port number given above, otherwise it will default back to 25).