Outlook 2010: Recall A Sent Email Message
What if you sent an email without attaching some necessary document or you just mistakenly put the wrong information in the email? Outlook 2010 provides a feature to recall a sent message and is the first desktop email client that provides such an option.
Go to the Sent Items and open the Message that you wish to resend, then hit the Office button(File Menu), go to the Info tab and head over to the Message Resend and Recall option.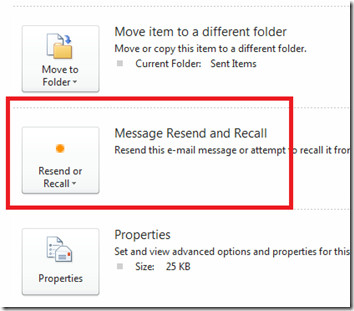 Click the drop down button located with the Resend or Recall option and choose the Recall This Message option.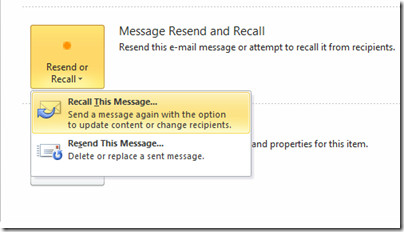 You will be prompted regarding, what to do while performing the recall. You can either Delete unread copies of the message or Delete unread copies and replace with a new message. Also make sure that the Tell me if recall succeeds or fails for each recipient option is checked, if you wish to be informed, if not then just uncheck this checkbox.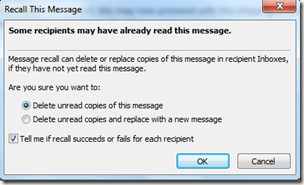 So what does Recall option actually do? You can use it to delete the copy of your email from the recipients inbox or use it to delete a copy and replace it with a new message. The first option can be used if you send an email to a recipient by mistake, while the second option can be used if you forgot to include an attachment or any additional information.
Please note that it can only delete/replace emails that are unread, if the recipient have read the email then Outlook 2010 cannot delete/replace the email. Also note that this option will work in corporate environment only, if you send an email to GMail, Hotmail, Yahoo, etc address then this option will not work.