Outlook 2010 Tips: Automatically Close An Email Message After Replying
In Outlook 2010 when you open an email message to reply or forward it, the original message stays open even after the email has been replied or forwarded. If you reply to dozens of emails daily then this default setting can be really painful.
To make sure that the email message is closed after it has been replied or forwarded, click the Office button and then choose Options.
In the Outlook Options dialogue box, go to the Mail section and locate the Replies and forwards category in the right side of the dialogue box. Here make sure to check the Close original message window when replying or forwarding option.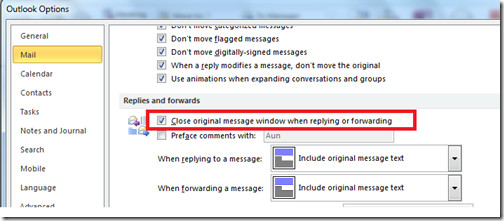 Hit OK to complete the configuration.