OutlookParameterGUI: 30 Switches To Run Outlook In Required Mode
Since Outlook supports a variety of plugins, add-ons and other third-party tools' connectors, it's highly prone to PST/OST file corruption and other like attacks. Finding out problems with PST, OST and old email archive files isn't easy, and takes a lot of time as well as effort to identify the root cause of the issue. Sometimes, Outlook stops responding due to the presence of incompatible add-ins, and this not only makes it difficult to find the add-ins, but also to permanently delete them. If you often encounter fatal errors, add in exceptions etc while using Outlook 2010, you probably need to install OutlookParameterGUI to easily identify the issues. The application is meant for launching Outlook with different switches. It supports a total of 30 widely used command line switches for Outlook.exe file, which are used to identify and troubleshoot Outlook-related problems. Instead of using a command line tool to invoke Outlook.exe with a certain switch, you could this application to select the required switch to launch Outlook in required mode.
Apart from Outlook.exe switches, it provides you with details of installed Outlook version, and displays serial number of the version. When you launch the application, it asks you specify the Outlook.exe path to find all the related information on selected Outlook.exe, and use required parameters with it.
The main window shows detailed explanation with each parameter. All you need is to select the parameter and click Start to launch Outlook in specified mode.
By default, it doesn't display serial number, but you can enable Show serial from Options to reveal the serial number. Navigate to Outlook tab to find information about installed version, including Product ID, Serial Number, Product Version, Architecture, Service Pack etc.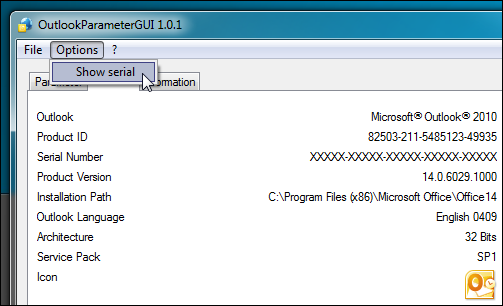 OutlookParameterGUI lets you easily run Outlook.exe with parameters without having to open CMD to run Outlook in required mode. OutlookParamterGUI is standalone application that works on Windows XP, Windows Vista and Windows 7. It supports both 32-bit and 64-bit editions of Outlook 2007 and Outlook 2010.
Download OutlookParameterGUI (2nd tool from top)