Password Protect Your Removable Thumb Drive With USB Flash Security
Even though cloud storage services like Drop Box, Just Cloud and Sugar Sync have freed us from carrying USB flash drives with us even when we have to take a single text file to another location, large files still need to be transferred to USB flash drives and portable hard drives. Sometimes, the flash drive may contain important data that you do not want others to access, or the data may be meant for only a single person. A situation might arise where you have to send your friend a USB drive through a third person, and don't want them to be able to view the contents of the USB flash drive, then what will you do? You can use USB Flash Security, a useful security tool that locks the USB with a password when you remove it from your system. The data inside the USB is protected by the password.
During installation, you are prompted to install some toolbars along with the application. Make sure you uncheck the toolbar installations to avoid getting unwanted software into your computer.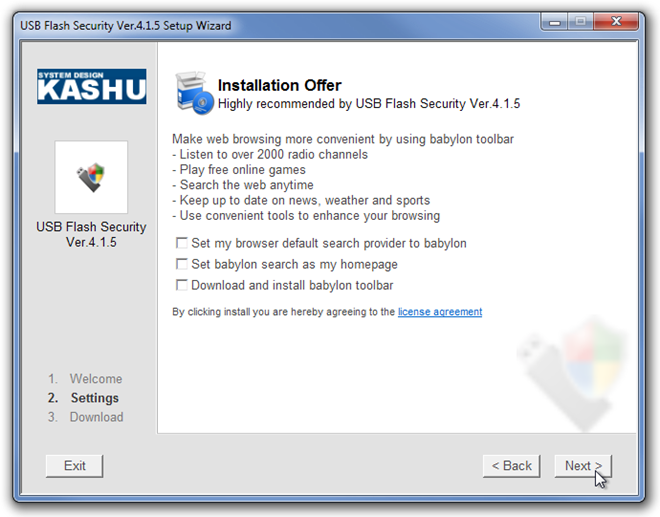 When the application is downloaded and installed,  you will face a dialog box asking you to connect the USB flash drive to the computer. When you connect the drive, it is automatically recognized by the application and its Volume name, Total Size, Free Space and File System information is displayed. If there are more than one USB drives attached to the system, choose the one you want to protect and click Install.
Note that during the installation of security features onto the flash drive, the disk will be formatted and all the data present inside disk will be deleted. Make sure that the disk does not contain any important data, and back it up if there is any.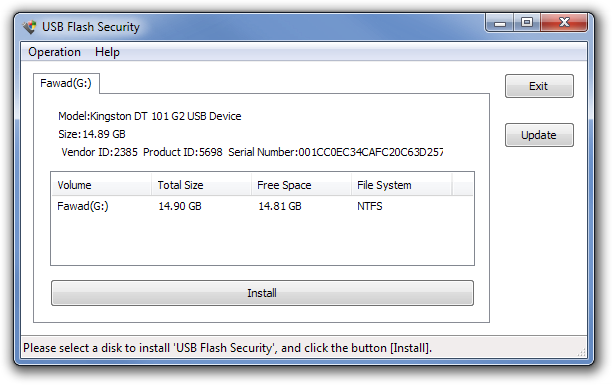 The Disk security settings dialog box allows you to set the password for the USB flash drive, and choose a hint for the password in case you forget it. Click OK when everything is entered. The security features will be installed, and your USB will automatically get locked when you remove it from the system. You can use the previously entered password to unlock and access it.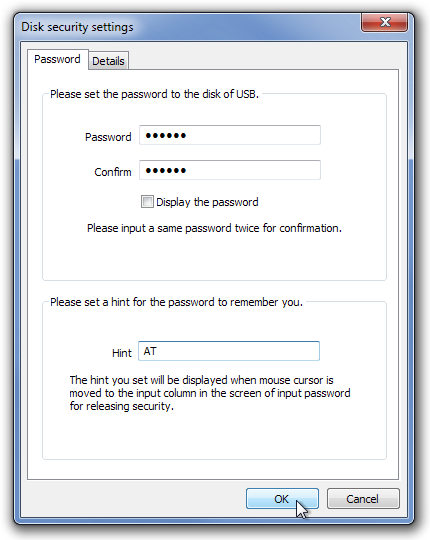 The application is available in both free and paid versions, and the complete comparison can be found here. USB Flash Security works on both 32-bit and 64-bit versions of Windows Server 2003/2008, Windows XP, Windows Vista, Windows 7 and Windows 8.