PC House Keeper Provides All-In-One PC Maintenance & Tweaking Solution
Just like your car, keeping your computer in shape is necessary for its performance to be top notch at all times. With time, junk files, unwanted software, redundant startup entries and services clog up the system causing it to slow down. Cleaning it from time to time is necessary for keeping it from crashing down while working. PC House Keeper is a very comprehensive PC maintenance application with a host of tools to diagnose and improve your system's performance. It provides users with a centralized and easy-to-navigate interface, enabling you to clean junk, uninstall redundant and unused applications, regain hard drive space by deleting temporary files, scan and fix registry errors, manage Windows startup, regain used memory, specify network and internet settings and securely delete files permanently from your system. Read more about PC House Keeper after the break.
Whenever you launch the application, a window pops up, displaying the Quick Statistics of your system including Free Disk Space, Used Physical Memory and Used Virtual Memory.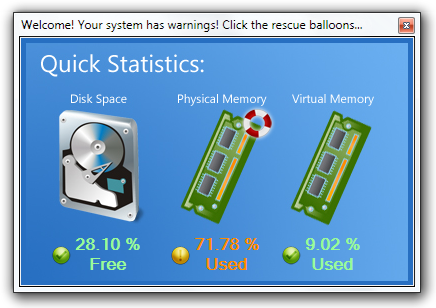 The interface has Home Temp Cleaner, Registry Cleaner, Secure Eraser, System Tools and Network Tools at the left, while the details of each tab appear on the right side. The Home tab lets you view details of your system with buttons to access Task Manager, More Details and Quick Stats in the right bottom corner.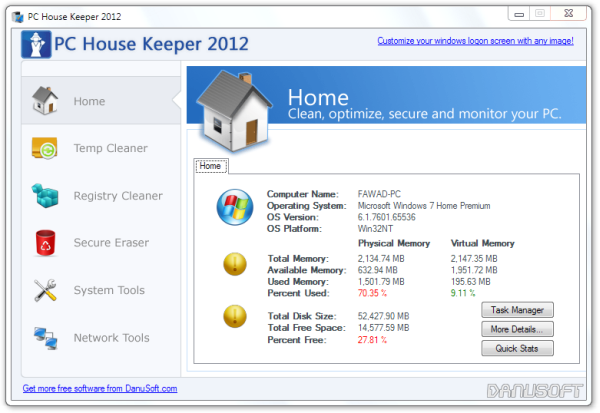 The Temp Cleaner tab provides you with tools to clean Internet Cache, MS Paint temp files, Cookies, User Cache and History. You can either clean these items individually, or use the Clean All button to wipe everything in one go.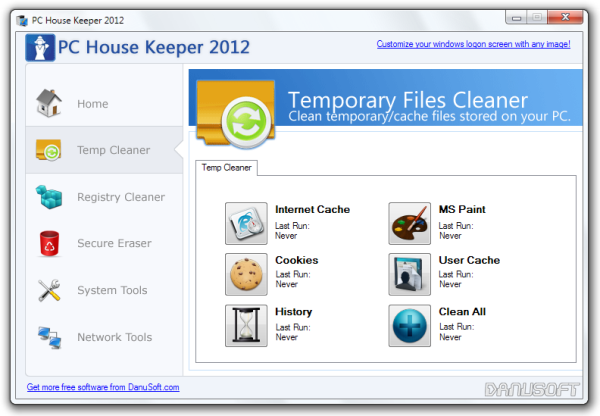 The Registry Cleaner tab lets you clean registry with the Windows Registry Cleaner tool or Start Windows Registry Edit to make changes in any registry.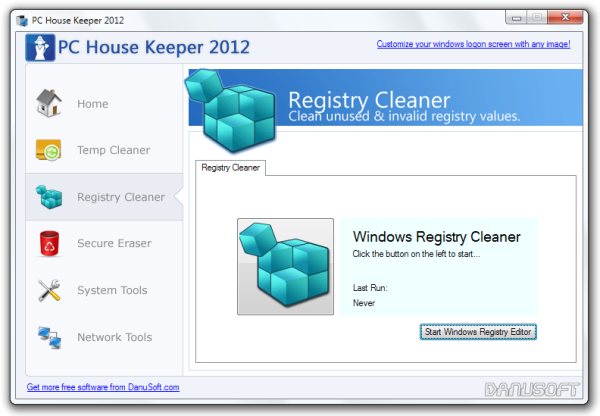 The Secure Eraser tab contains a tool to securely and permanently erase files from your PC. It makes sure that the data is not retrievable again by using different shredding methods, such as British HMG, Russian GOST, US-DOD, Peter Gutman etc. The GUI displays the shredding Strength and Speed for each selected Shredding Method.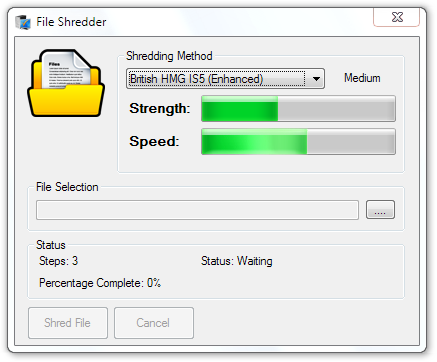 The System Tools tab has general PC management tools such as Startup Manager, Add/Remove Programs, Disk Cleanup Tool, Process Explorer, Disk View and Autoruns.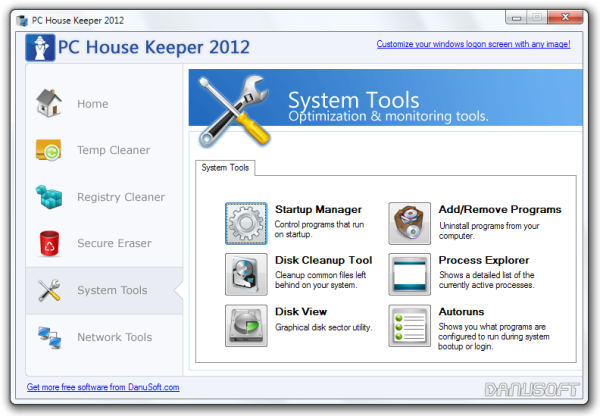 Network Tools includes Internet Options, IP Port Scanner, Network Connections, MAC Changer, MAC Scanner and TCP View tools to manage your networking and internet issues.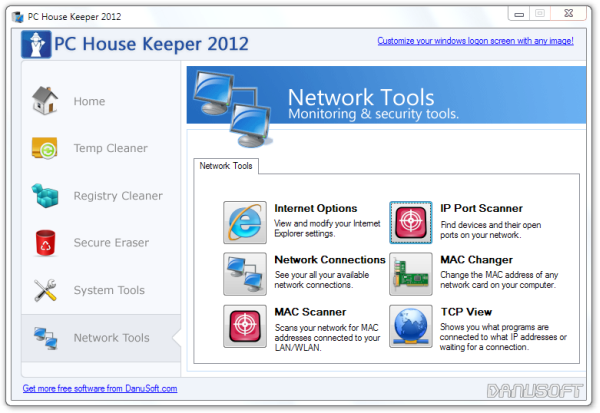 PC House Keeper works on both 32-bit and 64-bit versions of Windows Vista and Windows 7.