PDF24: Convert, Merge, Edit PDF File
Since PDF is the most celebrated format for distributing & publishing final documents, users are inclined more towards using PDF as permanent format for reading e-books, documentation distribution, and for publishing technical guides, etc. Most of you will now be familiar with PDF Printers, one such as been covered before called BullZip Printer. Amongst the many PDF printers out there, PDF24 stands out because it provides a full-featured tool apart from merely being a Printer to convert documents into PDF format.
Once you have chosen PDF24 printer option from the Print dialog window, click Print.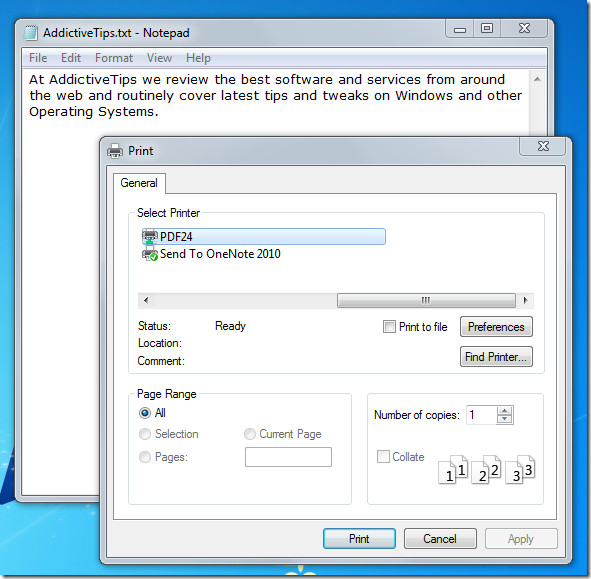 This will convert the content in application such as; MS Word, Excel, Browser, Text Editor, etc into PDF file instantly. The best part is that Print option is available in almost every application, so regardless of what type of application you are using, you can save its content into PDF file, by choosing PDF24 printer.
On clicking Print, you will see main interface which includes multitude of operations that you can perform on PDF file like; Show PDF, Save PDF, Edit PDF, Email PDF, and more. The quality can also be selected, with standard being the default.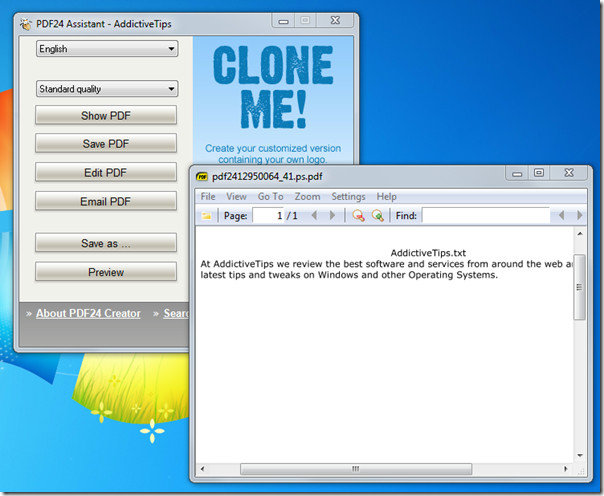 Like mentioned in the introductory paragraph, the full-featured tool is actually an editor where you can merge, split, and perform other operations on the newly converted PDF document. Creating a merged document with it is a cinch, just open the PDF24 Editor, drag PDF files into its right-side, you can also re-arrange the documents into a specific order. Once documents are in desired order, click Merge button. You can split the PDF document in the same way.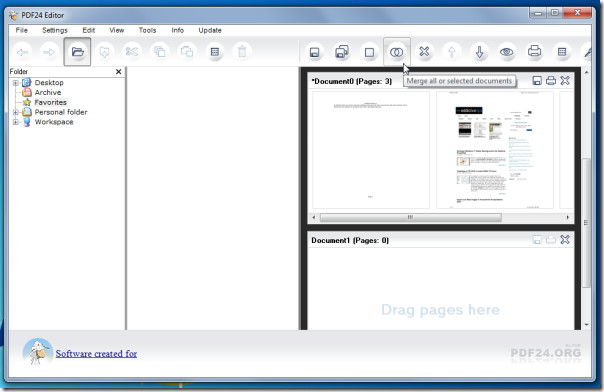 Other noteworthy features it offer are:
Multiple Output Formats (PNG, TIF, JPG, BMP)
Integrated Explorer for selecting documents
Preview Mode
PDF editor (Layout change)
PDF content extraction (pages, text)
PDF Splitter
PDF Signature
Extract Pages
Copy Pages From One PDF To Another PDF
Secure PDF
Set PDF information such as author and title
and much more.
It runs on Windows XP, Windows Vista, and Windows 7. Testing was done on system running Windows 7 32-bit OS.