PDFBinder Allows You To Merge Several PDF Into One
Earlier, when it came to PDF files, if you considered anything other than just 'viewing' the file, the first thing that came to mind was an expensive software. Thanks to the advents in open source software, PDF creation is no longer an issue. Adding something along the same lines is the tiny software PDFBinder, which lets users merge or bind several PDF files into one without going through the hassle of complex programs.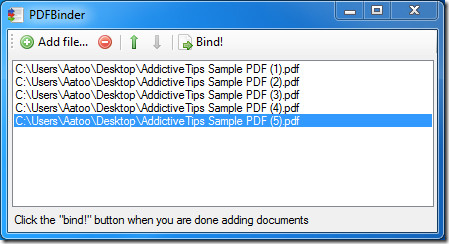 The application has a very plain, easy to use drag & drop interface. You need to run it as an administrator in order to avoid any conflicts when using with Windows 7 or Vista. There are no options or settings, simply drop the files you want to merge together in the window and click Bind! The software is really fast and will join the PDFs together in a breeze.
Files are joined in the order they are present in the list. Hence with the two arrow buttons, you can change that order. Output directory needs to be chosen by the user during every operation.
PDFBinder is written in C# and utilizes iTextSharp for its PDF processing. We tested it ont Windows 7 32-bit system.