Perfect Effects 3: Apply Instagram-Like Photo Filters In Layers Or To Specific Parts Of Images
Most Android and iOS users prefer the acclaimed Instagram over other image editing & sharing apps. Although you can view Instagram images using numerous third-party web apps, you cannot change the effects within the app or create new ones. For PC, we have previously covered a number of photo styling applications such as Easy Photo Effects, and Pho.to. Perfect Effects 3 is another awesome application that comes packed with an Instagram-like effects library. It includes a total of 30 professional effects that are divided into four categories namely Effects, Instant, Textures and Borders. In addition, it contains a number of masking controls that let you apply effects to selective parts of an image. The app allows applying effects in layers, which means you can combine multiple effects together with varying intensities, and apply the combined effect to the image. The application works both independently and as a plugin for Adobe Photoshop, Photoshop Elements, Lightroom and Apple Aperture.
When you start the application, it shows you all the main features on the main interface. Images can be added using a Browser available at the bottom, layers can be managed from the right sidebar, while you can access tools including Crop, Cut, Masking Brush, Masking Bug, Zoom etc., from the left sidebar. When you add an image, it appears in the main window. The Effects tab offers over 24 effects that can be applied, either individually or in combination with other effects. All the available Effects are neatly grouped into a total of 5 categories.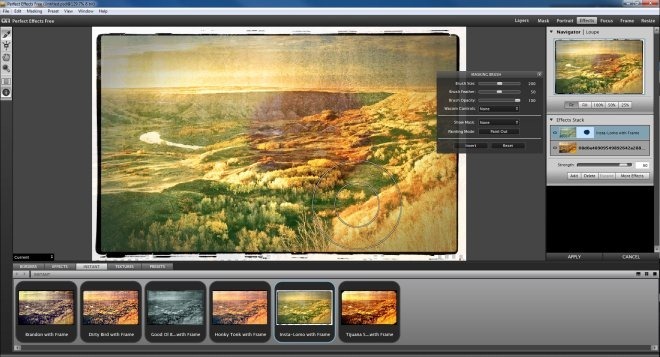 Image Navigator, Layers management and Masking functions are available at the right side under the Layers tab. The options such as Delete, Copy, Blend layer, Layer Opacity, Brush Size, Feather etc, allow you to fine tune the applied effects.
The Toolbar at the left holds different tools including transform, Crop, Cut, Masking Brush, Masking Bug, Pan, Zoom and toggle preview modes. Once you have added requires effects to the image, you can save the image in JPEG and PSD (Photoshop Document) format. A very nice feature of the application is that, instead of the whole image, you can apply an effect just to specific parts of an image.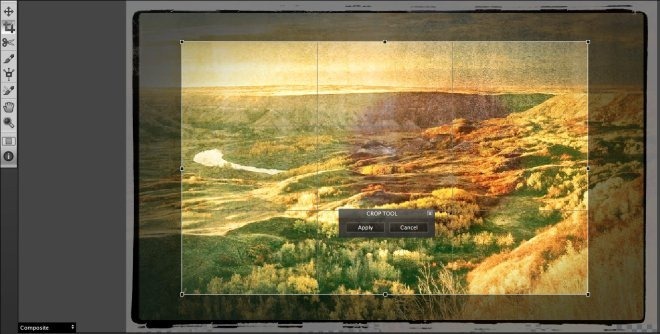 The Preferences window accessible from Edit menu, lets you change the General application behavior, as well as, control Memory and VRAM usage for better performance.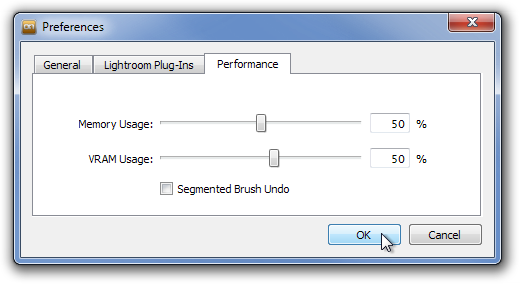 The embedded video below explains some of the main features it has to offer.
The application works on both 32-bit and 64-bit versions of Windows XP, Windows Vista, Windows 7 and Windows 8.