Perform Multiple Batch Operations Over Image Set With ImageBatch
Every now and then, we need to perform multiple operations over enormous image set. Most of the times, batch conversion is needed, or bulk resizing with watermarking is required. Considering this immediate need, ImageBatch is a simple yet powerful portable tool which is designed to do multiple batch operations over images, some of which includes; resizing images, text watermarking, picture watermarking, flip, rotate, and crop images, etc. It supports all the eminent image file formats like; PNG, JPEG, GIF, and BMP.
The interface is very simple in terms of usage. All that is required is to specify source location and output folder. From Choose types, select the file format, in case of JPEG conversion, you can also set out images' quality. Under Operation box, select a desired operation and click Start to begin the process in question.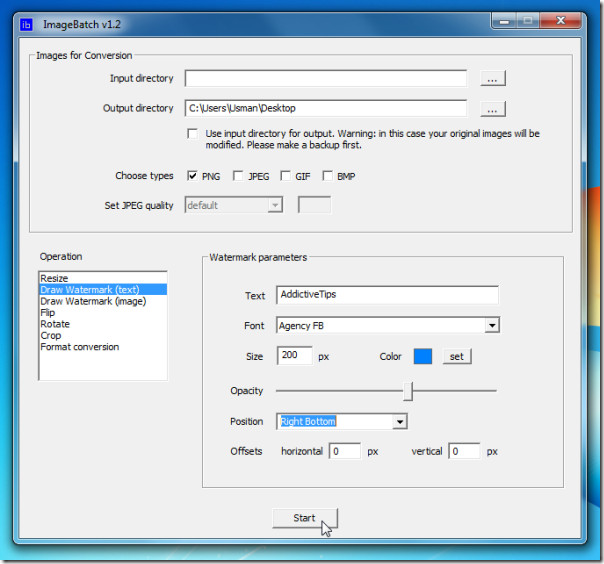 As shown in the screenshot above, we're intending to watermark the image set in bulk. While testing it out, we were wholly satisfied with the image processing speed it offers which is quite phenomenal, as it watermarked 40 hefty images in couple of seconds.
Down the line, if you are required to resize, rotate, crop or watermark the images, give this application a shot. You can also check out Picture Barf and Image Resizer.
It runs on Windows XP, Windows Vista and Windows 7. Testing was carried out on Windows 7 x86 system.